Manufacturing is one of the most interesting parts of the business world. The blueprints that you have had hanging up on your boardroom or design department walls are finally getting the 'coming to life' treatment. This is where your dreams become a reality but it's not going to be easy. Manufacturing plants are always messy, loud, hot and full of activity from end to end. Thankfully however more is understood about the process from start to finish than ever before. For example we know that proximity is a big issue and can be the difference between slow production and even faults, to excellent efficiency and improved safety standards. If the materials and parts that each workstation uses is closer to them then the time you save adds up and up over weeks and months. But another aspect is waste which unfortunately is such a big challenge for small businesses especially that it's overlooked.
Less but more accurate
Water management is a big concern for manufacturing plants. Water is used for so many processes, such as cooling, cleaning, high pressure spraying and even for smoothing surfaces. Minimizing water wastage can save you a tremendous amount of money. Dry machines that have high amounts of friction need to use water in a more productive way. There cannot be a general running tube that constantly spray water on the work surface area. You should have a tube that is pressure sensitive and only works when the action is performed. For example, a drill is a prime machine tool which needs to stay cool. The cooling water should be activated when the drill is spinning. Linking the pressure switch to the water tube is going to greatly reduce waste but also give a more accurate injection of cool water.
Start over again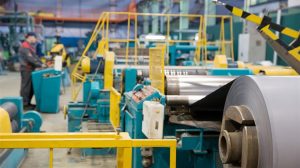 Materials often get wasted just by inefficient or incorrect usage. Plastics, metals, foam and cardboard are the leading materials in manufacturing plants which often get mishandled. That's okay because the employees are going to make mistakes and even automated machines can somehow cause a defect to occur. However you should recover the wasted materials such as cardboard and foam and crush it in Vertical Balers. These weight around half a ton to around 400 kg. They aren't that large compared to other machines but what they do is compress a lot of foam and cardboard which you can then send off to your suppliers to produce more of the things you need such as packaging stuffing and parcel boxes. If the material was in good shape but was defective this means that even when after recycled, the quality will still be up to par.
Keep good eyes on
Appointing managers to assess daily wastage cycles is a brilliant way to gauge where your manufacturing plant is actually going wrong. It doesn't matter if you create more efficient measures to regain losses. Not having those losses occur to begin with will mitigate waste overall.
Reducing waste is the underlying goal of every manufacturing plant that wants to consistently make good profits. These measures are designed to be more accurate, prevent waste from happening but also reacting to it in a productive manner.