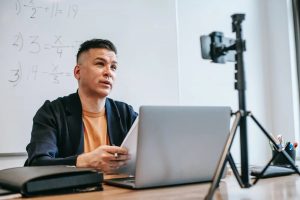 Virtual events have become a regular fixture for many businesses and business people over the last year. They're a safer option during a pandemic, but that's not the only advantage that they offer. Virtual events also make it easier to bring people together from all over the country or even around the world. They can be more cost-effective compared to in-person events too, and they can easily be combined with live events to create hybrid events. However, virtual events are not without their challenges. There are some key challenges that you should be prepared to face if you're planning a virtual event.
Connecting Attendees
It's easy for people to connect with each other at in-person events. They can mill around, mingle, and even take themselves into breakout spaces to discuss various things. However, this becomes more difficult with online events. Fortunately, there are some virtual networking ideas that you can use if you want to ensure people are able to connect with each other at your online event. Participating in different activities is one way people can get closer to each other, allowing them to socialize in smaller groups. You can use things like virtual scavenger hunts or a virtual cocktail hour to bring people together.
Keeping Everyone Engaged
Engagement can be a challenge when you're running an online event. Staring at a screen for a long time isn't necessarily the most engaging experience, so people can switch off if they're not finding the event particularly interesting. But there are ways to keep people engaged in your event and make sure they don't get distracted. Immersive experiences can help to improve engagement, requiring people to be more interactive, rather than just sitting there and watching whatever is happening on the screen. For example, Q&A sessions or polling require people to join in.
Technical Challenges
Technical issues can become a problem when running a virtual event. First, you need to find the right tools to host your event. You need to have the right people to put the event together using the tools available. It's also important that anyone attending the event is about to navigate any of the technical requirements. Being prepared for technical problems is smart when you're planning your event. If something goes wrong, you need to have a plan to ensure your event can continue as soon as possible and the disruption doesn't affect you too much.
Event Sponsorship
It can be more difficult to secure sponsorship for your event when it's online instead of in-person. Many sponsors may feel that it's more difficult to get the exposure that they want and to reach out to people at a virtual event. However, online events can still provide great opportunities for brands to advertise. You need to be able to convince them that you can still offer good levels of engagement. Using features such as virtual showrooms and branding opportunities, you can still offer opportunities for brands to get involved.
Online events can be challenging, but they're also an excellent way to promote your business. By being aware of the challenges, you can find solutions.