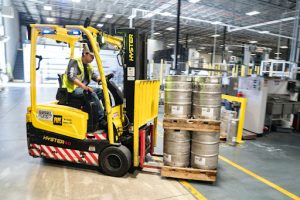 One of the nice things about eCommerce is that you can start a business from your own home. But as your business grows and becomes more successful, it could grow to include online sales, storage, and shipping. But you have to do a lot of things right to have any chance of success. In this guide, we'll give you all the best advice you need to set up your eCommerce business's first warehouse. Let's start with some of the most important things.
Do You Need A Warehouse?
To be successful in e-commerce, you usually have to start selling a lot of products. At some point, you'll have to decide how to handle it. You can get away with using a distribution company or a third-party warehousing service, and there are benefits to doing so. But if you want to have more control over how your business works, setting up your own warehouse is often the best way to go.
 There is a good case to be made that your warehouse will become the most crucial aspect of your company and its most valuable asset. After all, it is the center of your firm, where things come in and go out, and your effectiveness in operating a warehouse will go a long way toward ensuring the success of your eCommerce venture. It's a chance to lower your cost of sale, and a well-managed warehouse usually results in a larger client base and more earnings. 
What Equipment Do You Need? 
You'll need shelves and storage, as well as enough boxes and tape for packing, and a sufficient table space for employees to pack and dispatch. Consider hiring forklifts rather than purchasing them altogether when you are first starting out — forklifts will be a crucial element of your warehouse, but there is no need to 'own' them. In this day and age, a computer system, together with inventory software, is required to monitor and trace goods that is going in and out. 
Something else that will be highly useful is stillages. They can be used for storage and stacking, and you can find out more about them in this useful guide to stillages.  
Think About Inventory Control
Inventory control methods vary from one company to the next. However, there are a few things you should keep in mind for your eCommerce warehouse. As you build your company, search for parts of your inventory that are chosen and sent more often than others – your best sellers, for example. To guarantee that you never run out of those critical product lines, you must have a regular ordering strategy in place. 
Are There Safety Issues? 
When you combine high shelving units, forklifts, and a large number of big product boxes, it might easily be a formula for catastrophe. It is critical that you take your health and safety duties seriously, or your company may suffer as a result. Finally, a safer environment is beneficial not just for health and safety reasons but also for worker productivity.