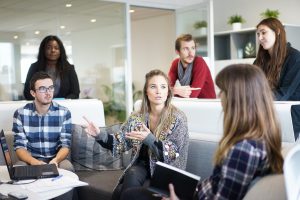 Every company wants to have an edge against competitors. In the majority of cases, they tend to focus on their customers and products. By making improvements to customer service and upgrading products, businesses hope to earn more sales.
While that is a positive approach, it's not the only one that your business can take. Instead, you can also focus on your employees. As many studies have highlighted, happy and engaged employees can optimize a company and increase revenues.
But, what could you do to achieve this? Employee wellbeing programs have become increasingly popular. As you might guess from the name, these are programs designed specifically on your employees' well-being.
What Are Employee Wellness Programs?
You may be wondering what exactly an employee wellness program is. In short, this is where a company incentivizes its employees to live healthier lives. That's primarily done by offering discounted or free memberships to gyms, healthier food options, and much more.
These can offer multiple benefits for companies. On the other hand, the financial aspect of the practice could also offer some drawbacks, especially if you're a small business.
Benefits Of Employee Wellbeing Programs
There are quite a few benefits associated with employee wellness programs, which is why many companies have implemented them. The largest of these are:
Increased Productivity:

Poor health is one of the main causes of unproductivity. As such, tackling this

will naturally lead to increased productivity

. Several studies have proven this, which should make implementing a program essential.

Increased Employee Engagement:

If an employee feels valued at work, then they'll be more engaged with what they're doing. With wellness programs, they'll see it as a net-positive for them, making it more likely that they'll take part. Even better if it's group activities, such as exercise classes. These will engage your employees more.

Reduces Stress:

 Everyone faces stress, with a lot of

this coming from work

. That stress can subsequently reduce productivity and make employees unhappy at work. While this is unavoidable, it can be minimized, with employee wellness programs being a great driver behind it.
There can be several other benefits associated with corporate wellness programs, although the above are the most significant.
Cons Of Employee Wellness Programs
Just because an employee wellness program offers quite a few benefits, it doesn't mean that they don't have any negatives. In contrast, there can be quite a few of them. You'll need to take these into account before implementing them.
The most notable of these are:
Costs:

Many employee wellness programs can cost a significant amount of money. In many cases, it can be unclear whether or not they're worth the investment. In many cases, you'll have to pay someone to keep employees informed of the program, which could be a waste.

Uncertainty:

It's hard to tell whether employees will continue to be interested in certain initiatives over time. As such, whether or not the programs will last is uncertain, which may be too much of a risk for small business owners.
There's also the fact that many employees might not want it and it may not be needed. If that's the case, then it might not be worth investing in.
Wrapping Up
Employee wellbeing programs offer a wealth of benefits to your workers. These will subsequently have a domino effect on your business. It will help them realize their goals, hopes, and aspirations within your company and allows employees to work toward them.