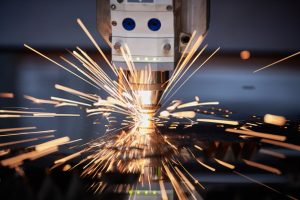 A few industries will always have trade; metalworking, plumbing, electricians, and similar types of industries.
Each year there are fluctuations in what becomes in demand, and metalwork is one area that has seen an increased call for high-quality metalwork. 
Even smaller metalworking businesses can compete – so long as what they produce is of a high standard, and they are open to bigger orders. So if you are thinking about leaping into a different and profitable industry, then consider metalwork. 
But how do you break into an industry like metalwork? 
Research
No matter what industry you are heading into, you need to research, but metalwork, in particular, requires this. You'll need to look at the resources you need and the skilled people you'll need on your staff to make it work. As well as which, metalwork niches are the most profitable. 
Look at past trends to give you an idea of which types of metalwork have seen the most significant profit and why. 
Equipment
The machinery and equipment will be one of the most significant expenses, and if you aren't familiar with the industry, it is easy to buy the wrong things. 
Most likely, you will need to be financed to get the company running, and your plans and planned purchases will be heavily scrutinized. You'll need a range of state-of-the-art ​​precision instruments to make sure your metalworkers can produce the best work. 
Laser cutting machines and a range of metals are just the start. You'll need to buy suitable materials for the fabrication process and the niche you want to go into. 
People
It is good to have a range of different skills on the floor. Ranging from the highest skill band of metalworkers all the way down to apprentices. Apprentices are essential to the company, as often, alongside learning, they will do a lot of the heavy work that allows the master metalworkers to be as productive as possible. 
Another critical person you will need is someone to advise you on the best types of insurance for the company and the workers, and someone who is incredible at negotiating. 
Acquisition or start-up?
If you have a few businesses launched on your portfolio, you might be tempted to approach this business differently. However, like with most companies, there are some distinct differences and a global market for metalwork. 
If you aren't experienced in sheet metal work or other types of metalwork, it might be more beneficial to purchase a company already running. It is also worth considering that a franchise is a reasonable model, and often, you get the support of a big name brand behind you. 
An already established metalwork will have clients, a network, and highly-skilled workers. All you will need to do is go in with fresh eyes, make some minor changes, and keep the most profitable contracts in place. 
Another benefit is that you can learn from the previous owner and management during a changeover process – they can show you the ropes before you need to take over permanently. 
If you choose the second option and decide to go for acquisition, then this article is for you: 7 Ways You Can Improve Manufacturing Processes