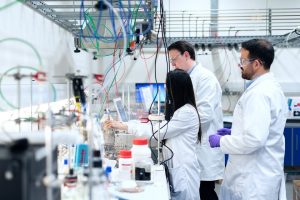 Efficiency and consistency are key concerns for any business in the chemical engineering industry. However, it is equally important that they find ways to manage costs at the same time. Optimizing processes is the best way to maintain efficiency and consistency while also finding cost savings. Unfortunately, many businesses fall behind in this area and, as a result, their bottom line suffers. If you run a business in the chemical engineering industry, these are the best strategies for process optimization. 
Choose Equipment Based On Your Needs 
Before you start thinking about different ways to improve processes, you need to consider the equipment that you are using and how well it meets your needs. Implementing the best possible equipment will immediately increase efficiency. So, if you are working with microfluidics, for example, find a microfluidizer that suits your specific application. Companies often make the mistake of buying into clever marketing and going for the machine with the most features rather than the machine that is best suited to their specific processes. If you do some research and update your equipment, you will notice a big improvement. 
Focus On Quality and Safety
Although improving efficiency and saving money are both important, businesses must make sure that this does not come at the cost of quality or health and safety. In other words, there is no point in doing something faster if it means that the quality of the final product is lower. You should also avoid any changes that introduce more health and safety risks because this just creates more challenges that could affect productivity. Whenever you are making changes to your processes, always ensure that quality and safety are upheld. 
Implement Automation Tools 
Automation technology is being used through the manufacturing and chemical engineering industries to improve efficiency, maintain consistency, and save on staff costs. Programmable equipment that can monitor equipment and improve integration between machines can make a huge difference to your efficiency. Self-diagnostics, in particular, are very effective because they can prevent expensive downtime by helping you identify maintenance issues early on. Automation technology already has a lot of benefits and the applications are only growing, so it will be more important than ever in the future.  
Use Catalysts In Chemical Processes
Regardless of the changes, you make to your equipment, you are still bound by the amount of time that chemical processes take. If a product you are manufacturing involves a lot of reactions that take a long time, this can significantly slow things down. In this case, the use of catalysts to speed up reactions can be a huge help. Although adding a catalyst will increase the base cost of materials and the overall cost of manufacturing, the increased output can save money. It's important to weigh the additional material costs against the extra earnings to see whether adding a catalyst is viable or not. In many cases, you will still make savings by improving efficiency. 
Make these changes to your processes and you can increase efficiency and output in your chemical engineering business.