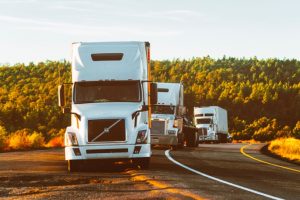 When you're getting ready to start a trucking business, you need to consider setting up a code of conduct.
A code of conduct is an outline of the rules and responsibilities you expect your employees to follow. It is typically written to tell your employees how they should behave on the job. It's also used to protect the business in legal matters.
Even if you're just starting out your business, you should strongly consider preparing a code of conduct for future employees. Here are some tips on how you can establish a code of conduct for your trucking business.
General guidelines
Most codes of conduct include the following sections:
-Company philosophy and values
-Personal conduct
-Quality of work, attendance, and behavior at work
-Operational procedures (including safety)
-Compliance with laws
You should also include any other information that will be important for your employees to know. This can include company policies, benefits, and uniforms.
It's also a good idea to let your employees know who they should contact if they have questions or concerns. You may want to set up an anonymous reporting procedure in case anyone has issues with the code of conduct.
You'll want to make sure all your drivers read and understand your code of conduct. It's also important they sign a document that says they've read the code of conduct and agree to it. This will help should you ever run into legal complications with an employee breaking your code of conduct.
Creating a code of conduct
You can use several online templates to help you write a code of conduct. Alternatively, you could create one from scratch.
When you write a code of conduct, it should be kept simple. In fact, you will get more use from a very basic outline than a deluge of legalese.
You don't have to pay a professional to write your code of conduct. However, if you feel lost or do not know where to start, it is a good idea to hire a professional writer with experience in the subject for advice and/or guidance. This way, the code of conduct will accurately represent your business and protect both you and your employees.
Be relevant
A code of conduct should be relevant to your industry and state laws. You want it to clearly outline what you expect from employees while also letting them know what is expected of them in return.
Some states require drivers to adhere to stricter codes of conduct than others do. For instance, some states require trucking companies to follow the Federal Motor Carrier Safety Administration (FMCSA) rules. Others, like California, have their own unique code of conduct for drivers operating in that area.
You'll also have to factor in specifics on the type of transporting you'll be doing. For instance, if your company is going to be dealing with transporting oversized loads, there are certain regulations your drivers will have to account for vs. transporting produce or perishable goods.
Look at other company's codes of conduct
It's always a good idea to look at other company codes of conduct for ideas or insight into what you should include. You can even hire someone to show you which sections are the most important and why. Doing this will help you build your own comprehensive, concise, and relevant code of conduct.
For instance, you might be struggling with whether you'll have a uniform policy or not. If available, you can look at a competitor's codes of conduct and see what type of dress code they have. Maybe their policy is for their employees to wear a company's hat, and that's it. You could have a similar policy for your company.
Another example could be how you handle drug use. Some companies have a zero-tolerance policy and will fire you if you are caught using it. Other companies might have a policy where you won't get fired if you're caught using, but you will be put on probation and will have to seek treatment.
Seek legal consultation
If you're not sure whether the code of conduct you have written is sufficient, it's a good idea to seek legal advice. For example, you should ask if your code of conduct will be enough to protect your company and employees in case of a lawsuit or other legal matters.
Trucking companies that transport hazardous materials will need to be especially careful about creating a code of conduct, as these substances require special training and must adhere to strict regulations.
Even if your business does not deal with hazardous materials, it is still important to seek legal counsel for advice or guidance on the rules and recommendations you should include in your code.
Creating a code of conduct for trucking isn't as hard as it seems. With the right steps and research, you can create an amazing document that will be useful for your company and employees.
You should also understand that having a code of conduct is just the first step — you will need to ensure your drivers know and follow the rules as well.