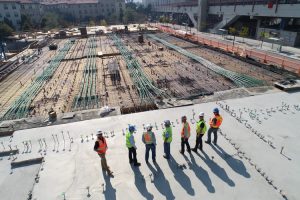 Times are hard for many industries, including construction. The current economic environment creates considerable uncertainties, which can lead to lower profit and poor productivity. Here's how construction companies can save time and money, whether they're a start-up or well-established. 
Improve Planning
Many construction companies don't take a strategic approach to planning. They operate according to rigid timeframes with little room for error. This causes problems when something unexpected happens. Better planning leads to fewer surprises and can help you to confront unexpected issues. 
Planning should be improved at every stage of the construction process. Software like RIB CCS can help with this. For example, during the design stage, different scenarios should be considered for how the project might proceed, rather than only assessing a single optimal template. Talk to your potential subcontractors and suppliers about any problems they anticipate. 
This detail should apply to procurement. Plan ahead to manage risk effectively. Think about who will be responsible for key deliverables? Who will lose out if these are not met, and how will you align the interests of everyone on the project? 
At the execution stage, you need plans to make sure work is on schedule day by day. Labor, materials, and equipment need to be available at the right place at the right time. A common problem in construction is companies set clear weekly and monthly targets, but don't know what needs to be done the next day. 
Construction companies with robust planning procedures at every stage of every project are able to roll out those plans over and over again. 
Stop Arguing And Start Collaborating
Disputes over payments are a common cause of delay in construction, with the industry known for often making late payments. For lots of construction firms, this creates two problems. They have to waste time chasing their customers for payments and also struggle to make their own pending payments. The payment process can be manual, messy, and bureaucratic. Subcontractors submit payments in different ways at different time, for different projects. Reconciling accounts while waiting for payment from your customers can cause major cash flow problems. 
Poor payment processes can have high costs. Relationships suffer with suppliers, subcontractors, and customers if disputes escalate. Site production can slow as work is halted. Accounts staff spend time dealing with problems, which hurts morale. In the worst cases, disputes overpayments can make it harder to raise needed capital, and your credit rating has been affected badly. 
The solution to these problems is to not allow disputes to arise in the first place, by getting your application processing and payment approval systems in better order. This means your processes will be faster and more efficient. New technology is areas like application for payment can help too. 
Constructions companies who are able to move past payment disputes will build stronger relationships with key stakeholders at every level. This should then deliver consistent dividends, both in terms of securing new work for your business and in making future projects much more profitable.