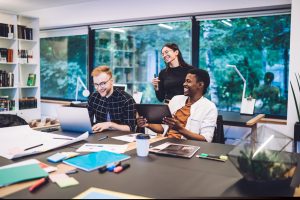 The open-concept office spaces, craft beer on tap, shelves stocked with snacks; yes, startups have a whole lot of allure to them, but they're plenty of work, too. What's more, it can take years for you to see the pay-off. If you're looking for tips to get the ball rolling, you're in the right place.
In this post, we'll take a look at three business tips designed to help you grow your startup.
1. Bolster your business plan
Your business plan serves several important functions. For one, it's a roadmap that outlines where you expect your business to head in the future as far as scaling and finances go. Listing out these pieces can help you make sure you're on-track for turning a profit and meeting your business goals.
Additionally, your business plan is an important document that can be used to attract and secure funding from investors. Most entrepreneurs rely on financing such as crowd-funding, angel, and venture investing to launch the first rendition of their business.
As you build up your business plan, take note of places where you can really make your business shine. Here are some ideas to get you started:
Tell a story: Imagine being an investor, spending hours each day reading through business concepts and origin stories only to read the same thing over and over again. The reality is, so many businesses have similar origin stories that frankly, get boring after a while. Make your story shine by focusing on the unique brand that you are. Do you donate shoes for every shoe sold? Are you using your grandmother's original sauce recipe? Make sure your story and personality shines through as you draft your plan.
Differentiate your concept: In a similar vein, there are far too many businesses that make the mistake of joining in an already crowded market. If you want to get into the cannabis industry, for example, you'll want to ensure you're disrupting the space with a product that adds value. An all-natural, organic CBD tincture, for example, may be more interesting to your target market than a natural tincture without the organic benefits.
Have a detailed plan: When it comes to business management, organization and planning are essential. Getting ahead of the details can help you anticipate downfalls, avoid mistakes, and ultimately, be better off in your business.
2. Look for ways to improve efficiency
Whether it's managing your finances or managing projects, it's always a good idea to assess your business' efficiency now and then. More efficiency = more productivity, better results, and bigger profit margins. Thankfully, with new technologies emerging in the startup world nearly everyday, it shouldn't be hard to find a solution for any efficiency issues you're having.
Anytime you're turning to tech to help you iron out inefficiencies, you'll want to be careful about how you evaluate new tools. After all, new tools mean more money out of your wallet, and for many startups, there's not a whole lot of spare capital to work with.
Here are a few questions to ask yourself and your team before adding to your list of subscriptions:
"What problem is this service solving?"
"Are there cheaper alternatives to buying a new product?"
"What is the cost-benefit analysis?"
"Is this product easy to use, and will my team also benefit?"
"Will this add value that could improve my bottom line?"

3. Prioritize your path
The health of your startup is really only as great as you and your team. It's no secret that the startup world can be full of long, chaotic days, stress, and sometimes a sprinkle of turmoil, but it can offer up some great rewards if you do it right.
Ultimately, you and your team are the backbone of your business, so it's incredibly important to prioritize your own health, well-being, and destiny while you're trying to grow your business. Below, you'll find some tips to help.
Know your limits
Take breaks when needed
Listen to employee feedback
Embrace a positive work-life balance
Encourage professional and personal development
Keep your eyes on the competition, but carve your own path
Starting your startup is a big enough task as is, but growing your business can be even more complex. Use these three tips to find your way!