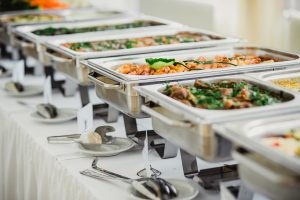 If you are in the catering business, it's time to take a deep look at your marketing strategy. Catering is an industry that has grown exponentially over the last few years.
However, with this growth comes increased competition for customers and clients. This blog post will explore how you can successfully market your catering business in order to keep up with competitors – and get ahead of them!
Create an Amazing Website
A professional and well-designed website can be one of your most powerful tools when marketing your catering business. Use your website to drive sales and build your local authority and credibility. Post helpful blogs, updates, and recipe posts to establish yourself as an expert voice.
Be sure to find a developer who can make sure that your site is conversion-driven. Besides content and design, your catering website can offer self-service features such as ordering and payments, saving your time and the time of your customers.
Optimize Your Website for Mobile Use
With roughly half of all internet traffic coming from mobile devices, a mobile-friendly business website will make you more accessible to those customers. You can expect a large percentage of your leads to search for your business on mobile devices, and by making your website mobile-friendly, you'll give them the best experience possible.
Make Digital Marketing Your New Best Friend
Marketing your food business digitally or through the internet drives traffic to your website and gets people buzzing about your catering business. You can do it yourself, or you can hire a team of experts that offer food delivery digital marketing services. Here are examples of digital marketing strategies you can utilize to get people talking about your company:
Social Media: Create a presence on social media and share news, updates, photos, videos, and helpful tips. You can also purchase targeted social media ads.
Search Engine Optimization (SEO): Publish useful content with keyword phrases and words to drive organic traffic to your website. Use SEO to elevate your search result ranking.
Pay Per Click: With pay-per-click advertising, you can target specific search results. For instance, you can advertise for local searches (like "Miami caterers"), events such as "Birthday caterers," or "office caterers in Miami."
Online Directories: Make your digital marketing efforts more successful by listing your business in relevant online catering directories. You should target niches (like vegan food) as well as local areas.
Localize Your Marketing: Using local keywords will allow you to attract local traffic to your site. For example, you can target phrases like "San Francisco gourmet catering."
Style Your Food and Take Professional Photos
Food marketing requires making it as easy as possible for potential customers to see what they'll be getting. Use professional photography to help showcase your signature dishes on your website, brochures, and menus for the best visual impact.
Make your food look as enticing and irresistible as possible. When food looks delicious, it sells itself by titillating the senses. Customers looking to impress with their catering are looking for aesthetic appeal, and killer photos will draw them in.
How to Market Your Catering Business
If you've been struggling to get the word out about your catering business, it may be time to reevaluate your catering marketing plan. Whether you have a new or established food business that needs help getting noticed, this blog post is for you!
We hope we could leave you feeling inspired and motivated by our list of essential tips for successful marketing in today's competitive environment. If you found these tried-and-true strategies helpful, check out our blog for more!