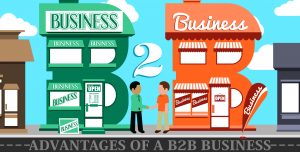 B2B brands are famously generic. That's because they don't communicate directly with end customers. Instead, they're intermediaries between primary producers and customer-facing firms. 
But that doesn't mean they shouldn't strive to stand out. Professional buyers are still people at the end of the day. 
But how do you do this? Let's take a look. 
Fix Problems Nobody Else Wants To Fix
One way to make yourself stand out is to fix problems that nobody else in your industry wants to fix.
B2B companies can get into the habit of believing that their rivals already do things in the best way possible, given current technology. But that's rarely true. Most are too busy focusing on cost-cutting to really think about what their customers want. 
For sophisticated enterprises, therefore, this is an opportunity. You can figure out how to solve problems that nobody else can, winning businesses from your rivals. 
Perhaps the easiest way to do this is to offer comprehensive customer service. So few brands do this, so it is always a bonus when they do – something your customers will thank you for. 
Admit Mistakes
B2B companies don't always like admitting mistakes. But it can actually be a powerful way to build trust and respect with your customers. 
If you do something wrong, be upfront with your clients, explaining what happened. When you talk to them directly, they are much less likely to post negative things about your company on social media and elsewhere. And that can help you tremendously in the long term. 
Get Certification
Many businesses today are worried that their contractors don't have the necessary certifications. And we're not just talking about industry-specific certification, either. 
As www.securityideals.com points out, brands want firms that have attained certain security standards as well. Remember, today's firms are obsessed with hacking and data breaches. And so they want to find partners who minimize their risk. However, they know that many smaller providers don't take security seriously. And so investing in it can change how they see you tremendously. 
Talk About Corporate Responsibility
We tend to think that corporate responsibility is just a marketing tool for consumer-facing businesses. But it can make a big difference in the B2B sector as well according to https://www.digitalauthority.me. 
Why is this? It all comes down to how other firms want their customers to perceive them. If they say that they work with socially responsible providers and contractors, it helps boost their brand. Thus, they are always looking for brands like yours that take things like employee conditions and the environment into account. 
Write A Blog
Lastly, B2B companies are getting into blogging in a big way. And it's not just about SEO. 
Instead, they are seeing how writing articles is an excellent way to become thought leaders in their fields. 
Let's say, for instance, that you run a demand planning company and you sell management software to supply chain firms. Having a product page is okay, but you are never really going to be able to explain why your product is so good with just this. 
By contrast, writing blogs makes your value proposition completely clear to all.