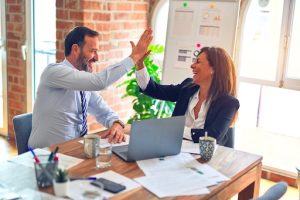 Hiring new employees can be a difficult and frustrating process. With so many options and competitors out there, it can be to choose the right person for your company. However, if you know what you're doing, it can be an extremely lucrative venture. The right employee can not only increase your profits, but they can also improve morale and workflows throughout the entire organization of your business. Thankfully, there are a few simple tips for finding the perfect employees!
Offer Benefits
In order to attract the most potential candidates, you should offer attractive benefits and perks. You will want to make your company's benefits sound as good as possible, but make sure you remain honest. Don't exaggerate benefits like company-paid health insurance, vacation days, or company-sponsored educational opportunities. If you do, you could lose employees. Also, don't forget benefits such as a great and organized working environment, work-life balance, and team morale.
Write a Job Description
Make sure to write a job description that accurately describes the responsibilities of the position you are looking to fill as well as the hours and salary.  This will help attract the right candidates, who might be more interested in working for your business if they know it exists. Also, staying flexible with your job ads can help you find the right employees. If your hours and salaries are debatable, make sure to specify this to your potential employees.
Hire Through Referrals
One option for hiring employees is to hire through referrals. To do this, you ask your existing employees if they know of anyone who would be a good fit for the job. Since they're the ones who know who they work with best, they're in a great position to make a recommendation. Also, consider the people who are close to you. Maybe you have a friend or a family member who is in need of a job and would be a good fit for your company.
More Methods of Hiring
You can also try hiring sites and job boards. For example, if you're interested in hiring a remote employee, check out sites like Remote OK, which charges a subscription fee, or Upwork, which doesn't charge any fees. If you're willing to hire from a wider geographic area, you can also post your job ads on sites like Craigslist and Indeed. Once you have potential employees, schedule interviews to see which would be the perfect employees for your business.
Stay Organized
Hiring new employees can prove to be stressful. Owning a business comes with many responsibilities, and adding another can seem overwhelming and even impossible. Staying organized is a good way to stay on top of all of your responsibilities and make sure that the hiring process goes smoothly. Ways to stay organized include keeping a planner, finding online solutions like https://continuuminnovations.com/, and keeping your office area tidy.
Hiring new employees can often be a daunting and difficult task. However, with these tips and a great level of organization, you will be sure to find the perfect employee for your business in no time!