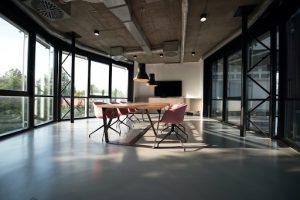 Successful businesses are built on the quality of the office. Without a productive environment, employees and managers struggle to achieve their goals, meaning they quickly fall behind competitors. However, it can be challenging for one manager or department to cover all essentials, so you must look towards B2B services to improve the office environment and atmosphere. If you want to get the most out of your office, here are four essential services.
Commercial Cleaning 
A tidy office is a productive office, yet many employees prefer to get out of the door as soon as the working day ends. This means there is a risk that the office is left in disarray and could affect productivity the following day. 
No one wants to work in a messy office, which is why janitorial services can be so effective. These companies will come in after hours to clean up following your workday to ensure it is clean for tomorrow. Encourage your team to keep things as neat as possible, while the professional service will focus on hygiene to ensure a safer working environment. 
Interior Design 
Even if you don't know how to make your business appealing, professional interior design services can improve productivity and even increase your company's chances of success with clients. Interior design can be tricky, and as you have enough to focus on, decor and layout are not always something managers want to deal with. 
Working with an interior design firm can optimize your employee's performance to ensure better results. Furthermore, an attractive office is a more pleasant place to be in, so it benefits you just as much as it does everyone else. 
IT Services 
Although many businesses rely on remote IT and network services to maintain their systems, opting for on-site IT support can be hugely beneficial. These services can react immediately to any network problem so you do not experience too much downtime and can continue to serve clients or fulfill orders to keep customers happy. 
Hiring experts to sit in and tackle any problems can also protect your company from cyberattacks. They are ideal for training new employees and providing retraining programs for existing employees, which provides multiple benefits, including the ability to keep your business and customer data secure.
Counseling 
With the isolation that came from remote working for many businesses and professionals over the past few years, a focus on mental health services should be a priority. This applies to employees who share both attitudes towards returning to the office. While some may be happy, others may not be comfortable being in the office.
A weekly counseling service can help employees explain any issues and it also gives them the chance to avoid common work problems such as burnout and anxiety. If you want to ensure your employees are at their best, this is a service you must ignore. 
The Perfect Office 
Even though many businesses have moved away from the traditional office, it is still required for many companies. As a manager, you are responsible for ensuring a positive working environment for your employees and visitors. These services can make that a reality and help your enterprise achieve success.