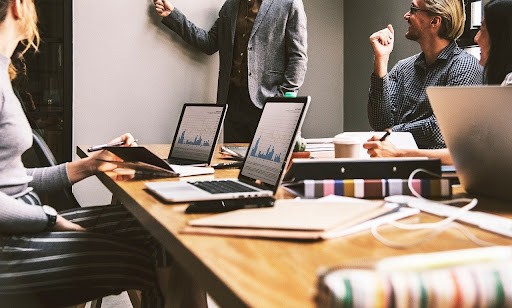 We're heading into the new year, and that means that there is an awful lot of great energy around to harness, and you don't need to believe in new year's resolutions, to get the best start out of 2022. But, you do need to be present, accounted for – and ready to embrace it all. 
Here's how.
We all like to think that our businesses are so infinitely complex that only solutions across the range of operational bases we work in (that are equally complex) will do. Well, intrepid entrepreneur, we have news for you and it comes from one of the greatest Renaissance men to have ever lived. In the words of Leonardo da Vinci:
"Simplicity is the ultimate sophistication"
Perhaps it's because we're all wanting our brand to be taken seriously and to have the sufficient gravitas to open the right kind of doors that we think otherwise, but Signore da Vinci's words are as real and true now as they have ever been. The best strategies, the most efficient processes, and the most effective business plans are all lean on fluff – and big on outcomes.
BAGGAGE IS FOR VACATIONS, NOT FOR BUSINESS
As we head into the new year, it's a great idea to pull out your trusty business plan, get a cup of coffee and read the entire document from start to finish. Take some time to do this, and keep your notepad to hand while you're doing it. Revisit all of your strategies and plans mentally while you're reading through your business plan and note any revisions or redirections that you've undertaken over the past year.
Test these changes against successes and failures and either adjust your business plan relevantly or put your ideas on paper to discuss with your team as they return to work. We know you want to be an innovative leader, so, innovate.
The most important takeaway from this process? Leave the past behind you. Whatever you've been through this past year, provided you have learned from it, should be left exactly where it belongs – in 2021.
DECLUTTER YOUR LIFE
Go through your accounts, your email, your incompleted goals or tasks, and GET RID of everything you cannot take with you in 2022 – and be brutal. If you need to take a loss, then take it. If you have to abandon a plan – then abandon it. Be realistic about overdue accounts that you can reign in and incomplete or unachieved goals that you can put on the first quarter planner. Deadweight will sink you faster than you can imagine, and you want fresh minds and enthusiastic bodies on your teams heading into the new year.
ALL THINGS MARKETING
Right up there with smart financial planning for the year and employee retention programs (yep, you'll be needing those more than ever), is the priority of revitalizing your marketing plan – and this doesn't just mean your sales strategy. We're talking about overhauling your entire marketing plan and being as comprehensive and solid as you possibly can – keep what's awesome, reworks what's good – get rid of what you hate. 
With so many aspects of business now being conducted online, you should really be getting into this if you're not already, and as not everyone is a marketing genius, find the right partners to help you achieve what you're aiming for. Marketing means above the line, online, social media, and business-to-client (B2C) as well as business-to-business (B2B) so it may well be time to find a partner that offers B2B online marketing as a specialization – especially if those words don't mean anything to you.
Whether you had an awesome 2021 or the opposite of that, 2022 is knocking and you cannot rest on your success in the past year, or wallow in your failure – time is not for the wasting. Good luck, and happy hunting!