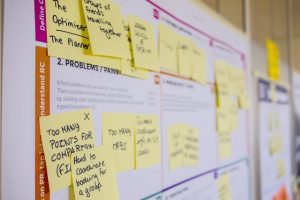 Starting a business can be a challenge, it can be exhausting, and it can be downright confusing sometimes too. 
But with every lousy point, there are multiple good ones. 
Being an entrepreneur is one of the more rewarding things that you can do, and seeing your business take off is incredible. 
Yet, many people don't take the leap with a business idea or a start due to cash flow or the lack of it. 
The truth is, you can be as agile as possible and launch a business with little to no money. 
Idea Generation
Start writing down all of your business ideas. What makes them great? You might need to write down up to 100 ideas in order to find the one that makes the cut. 
The best business ideas usually come from highlighting problems that people have. 
As you go through your day, look for things that you can improve. 
Research
Once you have got your list ready, it is time to research the market more. Are there other companies doing the same thing? 
Can you do it better? 
How can you personalize the tool, service, or product to stand out from a crowd?
Can you make a better product cheaper?
Audience
Who is buying your product? Where do they live? 
Build an in-depth profile of the people who will benefit from your product, service, or tool. 
Instead of taking a gamble here, seek out and interview/chat with people who fit the bill. 
You'll get the feedback you need. 
Inspiration
When working with little to no cash, it is essential to have a list of entrepreneurs that you can look to as inspiration. 
Bill gates

Steve Jobs

Cashmere Nicole
Look at what they have built, and remember that is your focus. 
MVP
What is the minimum viable product that you can put into the world? 
You are looking at building a tool, product, or service but just the bare bones. From there, you will need to seek people out and invest a lot of time testing them out. 
The reception of your MVP will give you the information you need to decide if you have something that can work or you need to go back to the drawing board. 
Business Plan
Rather than work on your business plan first, you will use the feedback and analytics that you have to put together. 
You now know if your business will work, how it will work, and who it will work for. 
Having real numbers means that you are less of a risk for future investors, as there is a market for your products, services, or tools. 
With planning and proof, you can move forward to seek investors and a co-founder. You can also consider crowdfunding, angel investors, small business grants, and microloans. 
You might wonder why you need a co-founder, and the truth is, most investors prefer to see multiple founders on a business plan. Research shows that successful start-ups have multiple founders. 
Co-founders can also be a massive source of support. 
Becoming an entrepreneur with little to no money isn't an easy option but can mean launching your dream business sooner rather than later.