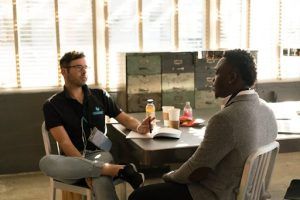 Recruiting for a new hire can be a daunting task, and getting it wrong can be expensive and time-consuming. By avoiding these common mistakes, you can create a robust, efficient, and fair recruitment strategy, giving you the edge over competitors, securing the best talent, and improving the candidate experience. 
Not Asking The Right Interview Questions
The interview process is a powerful tool to get the insights you need to hire the best candidates on the market for your role. By swapping predictable interview questions with fresh ones that are structured and job-related levels the playing field, avoids bias, and gives candidates an inclusive and positive experience. 
Prepare a structured interview format in advance to make sure the same questions are asked of all candidates interviewing for the role to ensure consistency and fairness in the process, and to limit unconscious bias. 
Include behavioral interviewing in your format. This is a great way to predict a candidate's future performance in a role. You should aim to ask two or three behavioral questions for each competency to give you enough information to make an accurate assessment of a candidate's ability. Where possible, allow for candidates to demonstrate transferable skills or behavioral competency that might not directly come from relevant experience. If you're struggling with this, you can outsource early-stage interviews to a recruitment agency.
Relying On CVs For Shortlisting
A CV is a useful tool to assess how eligible a candidate is for a role based on past achievements and experiences, but you won't get any insight into how well they will interact with your organization's mission, vision, or values, and you won't be able to assess their motivations for applying for a role or their potential for doing it. A supporting statement can be a good tool to assess what motivates a candidate and gives them a chance to show their strengths for future success at your organization. 
If you want to level the playing field in the selection stage, ask applicants to prepare answers to two or three targeted questions relevant to the role instead of sending in a CV. This will give candidates with the same educational or employment opportunities as others the opportunity to be considered equally. 
Not Checking References
References can be a useful tool when deciding on a new hire, especially if you get them from a previous line manager. You can get valuable insights into their contribution to previous teams, and build a reliable picture of what they can bring to the table for your organization. Getting valuable references can be challenging. Sometimes, company policy will prevent a previous line manager from giving a detailed reference or you might only get confirmation on dates of employment. You could try following up on your email request with a phone call. You might get more information if you speak to them directly in a less formal way. 
If you only get a basic reference, you could research a candidate on LinkedIn. Testimonials from previous colleagues or managers can be very insightful and give you the confidence that you have made the right choice.