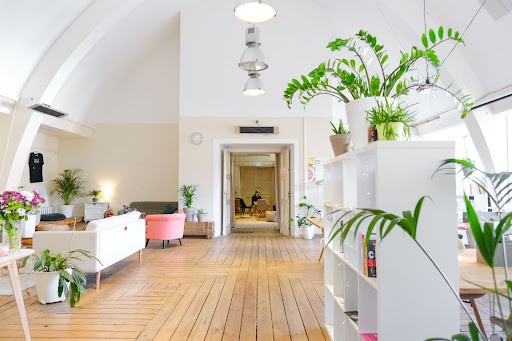 A workplace is a place where we spend most of our time. We work, we eat and sometimes even sleep there if there's too big of a workload. But if your office feels uncomfortable, then it's time to change it up! If you're running a business, it's a lot easier to have control of your office space. Not only do you, the business owner needs to make the space comfortable for yourself, but by all means, you certainly cannot forget about the employees either! There are many reasons why your office space might feel uncomfortable. Here are some of the most common factors that make an office uncomfortable:
– Too much noise from other people in the office
– Too much clutter on desks and shelves
– Lack of privacy
– Bad lighting
– Poor air quality
While employees all around the nation are coming back to the office to work, you need to incentivize a good enough reason for them to show up. If it's loud, stuffy, and generally uncomfortable, then it's a very understandable reason why you or anyone would even want to come back. While commercial hvac installation could immediately make a major difference, especially during heatwaves, there is a lot more you can do to ensure the comfort of everyone in the office. Here's how!
Biggest Mistakes That Happen That Are Make The Office Uncomfortable
There is no such thing as a perfect office. But, it's still very important to make it as comfortable as possible for everyone that's there. These are some of the biggest reasons, and mistakes that just make commercial offices still feel so uncomfortable and disliked.
Not having Personal Space
While it's death to the cubicle, this doesn't mean that you should just smash everyone together. There are a lot of big hurdles when it comes to having an office space that everyone can enjoy every day. It's obviously tough and it's difficult to get around that, no doubt.
Lack of Cleanliness
Sure, usually the janitorial service takes care of this if the commercial building has one. But they usually just do a brisk cleaning, just as vacuuming, sweeping, and mopping the floor. Plus, it's not the janitor's duty to clean up those old coffee mugs sitting on desks, or those wrappers of food, or even the stained microwave. Employee (and yourself) needs to get involved in the clean-up process too.
Too Noisy
This can't exactly be avoided, people have calls, chit-chats, and so much more is happening around the office. Plus, some people talk too loud without even realizing it.
Cluttered Looking Space
This is a very common problem. Maybe papers are stacked up, boxes are laying around, or maybe even other issues like a cluttered desk. A cluttered space just feels claustrophobic.
Lack of it Being Visually Appealing or Welcoming
While it's not mandatory, it is always appreciated when businesses make the space more aesthetically pleasing. You don't even have to hire an interior designer for this either. People love working in beautiful spaces and it can make all the difference too.
How to Make Your Office Space More Comfortable
One of the most important things that you need in your office is a comfortable workspace. It is essential for your productivity and comfort. But, you can't forget about the employees too, as they deserve to be comfortable as well. These are some helpful tips to make the space feel a lot better.
1) Get a good chair: A good chair will help you relax, reduce back pain, and improve circulation. You're going to want to look into getting an ergonomic chair and desk for you and the employees.
2) Use natural light: Natural light helps increase productivity by helping to regulate cortisol levels in the body which are associated with stress, insomnia, and depression.
3) Get plants: Plants can help clean the air in an office or home by removing toxins from the air and providing oxygen for humans to breathe. They also provide a calming effect for workers who suffer from mild anxiety or depression. Plus, they just look way more aesthetically pleasing as well.
4) Install film over the windows: UV rays can not only disrupt everyone in the office due to the glare, but it can sun bleach the furniture and heat up the space too. Plus, UV rays are harmful on the skin as well. Getting film installed on the windows can greatly make the space feel so much better.
While it can be a lot of work to get an office space more comfortable, it's completely worth it in the end!