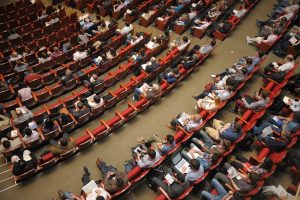 Espresso vans providing mobile coffee solutions are becoming a more common sight at high-quality events and conferences. You might see this in the form of pop-up coffee carts at stands or small carts that provide coffee, tea, and cakes for conference-goers. But what if you're looking to throw a launch party?
Marketing and branding departments today understanding the importance of connecting to investors and the right target markets, such as young people with a high degree of disposable income. Companies are always looking for innovative ways to reach their key stakeholders; so launch parties can be held anywhere, from a booked hall to outdoor venues such as a park. A corporate event planner help to ensure a memorable occasion. 
Wherever your launch will be held, having a mobile coffee presence makes a fantastic addition. That's because all sorts of ages and all sorts of people drink coffee. Unlike alcohol, which brings all sorts of licensing-induced headaches for event organizers, coffee has no major stigma or red tape associated with it. A coffee van provides a great way to keep everyone energized and warm, even if the event is outdoors. You don't need to require your guests to pay for the coffee either – providers can charge your company for however many beverages you want to provide to guests. The van will even cater to tea or hot chocolate drinkers and can incorporate snacks too! All in all, it will be a great focal point for your event, a location where those all-important networking conversations can take place.  
On Location
Mobile coffee van services cover much more than just conferences and exhibitions. There are all kinds of scenarios where coffee on the go can perk things up and keep the action moving throughout the day. One situation where such services can enhance proceedings is on a film set, whether that's in a studio or out on location.
Gone are the days when the cast and crew would settle for a plastic cup of milky tea and a curled-up cheese sandwich. Today, you can provide quality refreshments without breaking the bank by hiring an experienced and professional mobile coffee van. With gourmet coffee and tea on tap, your teams will be inspired to work longer and harder, knowing they'll be refueled along the way. But what should you look for when booking such services? First, when and for how long will your shoot will take place? A great mobile coffee company will be prepared to match your schedule, attending for as little as a morning or afternoon or for the duration, whether that's one or more days. Shooting at night? 
Ask your provider if they work out of usual office hours – some will be happy to oblige. Check what's supplied as standard and then see if you need additional services. As well as water and other soft drinks, you may want to supply light snacks like hand-made cookies and bakes, crisps and so on. If the set is planned for a longer period, check whether the coffee company can provide a full catering service if required. Finally, ensure dietary requirements can be catered for. Good companies supply a range of kinds of milk and take into account allergies and intolerances in the food they serve.