There's no doubt that a CNC machine is one of the best, most versatile construction tools out there. The right CNC machine can take your DIY projects to a whole new level.
Whether you're an experienced woodworker or you're just getting started with this unique hobby, a CNC machine can thus help you to level up your game quickly. In this article, we'll take a look at five unique woodworking projects that you could do with a CNC machine for woodworking.
1. Map of the World
One of the best starter projects with a CNC machine for woodworking is to etch a map of the world into a piece of wood. This can result in an absolutely gorgeous design that you could hang up as wall art anywhere in your living space.
Alternatively, you could also etch a city skyline, a city map, or something similar. The only thing that you'll need is a flat block of wood that will take the etching. It's recommended to use a wood that has a good amount of contrast between the exterior and interior grain — this allows the final design to really pop.
2. Small Furniture
Another woodworking project that you could do with a CNC is building out small pieces of furniture. With a woodworking CNC machine, you can only use the router on flat pieces. So while you won't be able to machine out the piece of furniture from one block of wood, you could use the router to machine out several pieces that ultimately fit together in your piece.
A small end table or coffee table is ideal for this sort of project. Use mid-century modern designs for a wonderful aesthetic.
3. Nameplates
Another great woodworking project that can be accomplished with a CNC machine for wood is to make a nameplate. Nameplates are exactly what they sound like: small wood plaques with names engraved in them.
These nameplates can look absolutely gorgeous when done right. They make excellent wedding gifts for new couples to hang in their home.
4. Key Hanger
A rather unique woodworking project that you could do is to make a small key hanger. The way this design works is to use a CNC machine to cut deep lines into a small piece of wood.
Then, you can fit a key into one of the deep lines and that key will support the keychain's weight!
5. Live Edge Pieces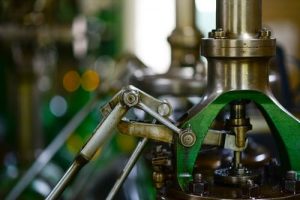 Last but not least, live edge furniture pieces have become more and more popular in recent years. If you haven't been able to get your hands on a good piece of lumber with a live edge, you could craft a live edge of your own using a CNC machine and a computer-drawn simulation of a live edge. Get your hands on a used CNC for sale to make this project happen.
Use a CNC Machine for Woodworking
There you have it. With these ideas under your belt, all you need to do now is get a used CNC machine for woodworking and start turning these designs into reality!
For more construction advice, check out the rest of the website!