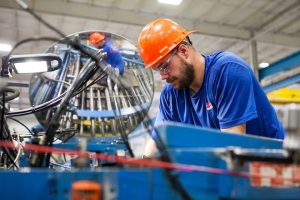 Maybe you're just about to recall your workers to your business and have them get straight back to their tasks and projects. Manufacturing is a periodic industry, in the way that the era of technology greatly impacts how effective it is. So, as you still have some time to improve your production line with several ket equipment choices, why not take this opportunity to make big and small changes? Why would you do this now? Well, it's as good a time as any to give your workers a better place to work in, with more effective equipment, so they can do their jobs better and faster. Getting out of this recession won't be easy, and if you have any old equipment still being used, it could break down or cause injury.

Air pollution control
Hazardous air pollutants or HAPs cause a great deal of harm to your workers. The sulphuric fumes, smog and horrible odors mixed with toxic vapors can cause serious illnesses within your workforce. So rather than buying masks for every worker, why not invest in blowers?
Blowers can be used to essentially blow air indoors but more accurately, in areas where the most polluting machines exist. Take for example the pneumatic conveying system, which depends on blowers and vacuums. They will need to convey large materials, products and possibly, equipment, to areas around the plant. As a lot of debris will be traveling up and down these systems, it's easy to collect dust and drying debris within these machines. As they continue to work, they build up a smog which can be deadly indoors. Therefore, every workplace should be using blowers to aid their ventilation fan system. The blowers can channel the polluted air into the vents and blow the smog outside of the building. 
Cooling and oil
Incredibly powerful tools often need to be cooled down as they work. Coolant and lubricant are therefore needed to be effectively but still, efficiently be transported to them. These types of butterfly valves allow for you to control the amount of liquid coolant that is going to the tools you're working with. These types of valves not only isolate flow but they regulate the flow, so if you have an area that needs to be given oil or fuel to operate as well, you can use these valves for that purpose. This is helpful for large machinery, such as presses or large robotic production lines that need to be given lubricating oils. These valves can be used for pipes in the plant or tubes that feed equipment.
Cranes
Let's say you're moving large objects around the production plant, you cannot expect to use wheeled vehicles to do this. Even though it can be cheaper, you should have fixed cranes in place, which can lift and move the heaviest items safely. Those types of load cranes can lift 1,000 tons and are commonly known as gantry cranes. You should fix this type of equipment in your production line but also, near your loading dock. If you ever import a large item or take delivery of something that you cannot lift by normal means, then this crane can lift and move the items into your plant. Because the crane is also on a track, it's very stable. With less chance of injury to your workers and more control over the weight, this is an essential piece of kit for your manufacturing plant. 
Deburring machines
If you work with metal, then this is something you cannot live without. If you drill, stamp, forge, mold or machine metal, then little tiny spurs of metal will be left on the surface. If you were to continue using the metal, it could be disastrous. Why? Well, little imperfection can cause a lot of trouble. It can cause the metal object to crack as the metal burrs are pressed into the surface. It can also cause a very coarse surface to appear, whereby a customer might cut themselves. 
A deburring machine takes any kind of metal object you're making and completely rids it of the extra metal shavings on the surfaces. Creating a smooth object, this allows you to strengthen the metal and give it any kind of heat treatment you want without any imperfections getting sewn into it. You can then polish and buff the metal without damaging your bristles.
Use this downtime to improve your manufacturing plant, so when your workers do come back, they can work harder and more efficiently. Start off by fitting new butterfly valves and blowers to aid your ventilation system.