Just about every modern product you hold in your hand and use, to some degree has been made by a robot. Highly skilled engineers and workers are still needed in manufacturing facilities but the large processes and fittings are done by automated machines. What does this mean for modern business? Firstly, you will save a lot of money in production, but you'll also have a faster production line with fewer hiccups. In the car industry, large panels and welding are all done by robots. The pieces are moved into position with pure precision, the actions are done to the exact measurement and each piece comes out to a near-identical finish. Robots can do the dangerous and dirty jobs that human beings may not want to do. They can also perform risky jobs that may otherwise cause injury to workers. So how can you implement modern robotics in your manufacturing business?
Designing the line
An efficient robotic line will have a series of robotic machines that can perform different tasks seamlessly from one stage of production to the next. Automated robots with pneumatic grippers from a company like smc are quite the common choice. They can hold heavy pieces of metal in place and not damage the surface. Industry arm robots are the best choice for fitting grippers as they can bend and rotate into awkward positions. Spot welding and arc welding robots are crucial for any product made using metals. Assembly robots are required for large fittings and holding pieces of products in place while they can be set by other robots are by human workers. Dispensing robots are required for food products such as chocolate bars or circuitry building such as for smartphones. It's always a good idea to talk to industrial robot manufacturing companies to see if you require a bespoke machine to do the tasks your products need.
Large to small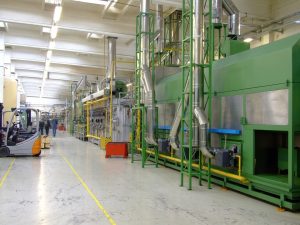 Modern automobile manufacturing has to lead the way in plant design. It's clear that the largest jobs have to be done first and that means using assembly-specific robots. These will be machines that can hold up large pieces of a product while a worker or a drill and or screwing robot can work on them. As the products are put together from the largest pieces first, the jobs will become smaller and smaller. The finite jobs will have to be done by hand which is where most of your workforce will be. This means that towards the end of your manufacturing line, robots will start to appear less and less. Oversight across the line will be required so the machines don't make mistakes or run into an error they cannot fix.
Reporting issues
Line managers have to be stationed at each stage of the production line. They will take down vital information about the quality of the work done by robots. With their keen eye, they can detect wear and tear on a robot and have parts replaced as and when needed.
Manufacturing has become one of the most interesting sectors in the world thanks to modern robots. Automated machines are the key to productivity in your facility.