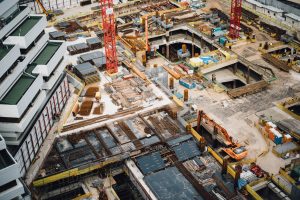 Technological advances are an inevitability in virtually any industry. Regardless if you're a humble bakery store or an international real estate developer, technology is going to help you optimize your business and make managing it a breeze. As of late, the construction industry is one that has been heavily influenced by emerging technologies. There have been multiple changes to the way we do business in this industry and it's becoming increasingly common for the construction sector to adopt the latest technologies in a number of unique ways.
In the past, construction technology would've been thought of as a new machine or hardware piece. It could've been a revolutionary new saw or a device to help weld joints more effectively. However, these days, software is also becoming a major component of how construction companies operate. In many ways, both software and hardware are evolving at the same rate, but what's more interesting is how the two have managed to merge together to create a more seamless and productive work environment.
In this article, we'll be looking at some of the most interesting developments that the construction industry has seen over the past couple of years and how they've managed to reshape an industry that was once stuck in its old ways.
Defining what construction technology is
Construction technology can be defined as any kind of hardware or software tool that is used during the construction of a project. This is a broad definition which can be hard to wrap your head around, especially considering how big a construction project can get. With developers and manufacturers finding more and more unique ways to incorporate technology into the construction industry, you'll find that the definition of construction technology is constantly evolving. With new technologies being developed at an incredibly fast rate, it's difficult to keep up with all of the new advances and how they can be applied to a construction setting.
However, it's safe to say that if a technology can be adapted for use in a construction setting, it can be considered a construction technology. So let's take a look at some of the areas where construction technology is making its mark.
The use of robots and drones
Many people believe that humans will soon be replaced with robots and drones, especially when it comes to repetitive tasks that can be automated with technology. While this has some truth to it, the main reason why technology is slowly replacing humans in certain aspects is that they're just far more efficient and suitable for the job.
For example, the use of drone technology in the construction industry has become widespread due to the ease of flying a robot over a construction site to survey it. We no longer need satellite imagery or a helicopter and video or drawings to help survey a site. We can simply charge a drone, fly it up with the help of a human operator and then take measurements or examine the environment as needed.
Similarly, the use of robots on an actual construction site is far more common than you might think. Some robots are simply faster and more effective at certain tasks such as bricklaying or tying rebar. They can complete tasks at a much faster rate and they're often more accurate at what they do. It also means there are fewer safety concerns for their human operations since they can control the devices from a distance.
In both examples given, jobs are created and not necessarily lost. These drones and robots need a lot of human support in order to function correctly. First, they need to be designed and built which requires human labor. Then, they need to be maintained and repaired as required which, again, requires a human to do the work. Finally, they need to be controlled by a human as they're not autonomous. If anything, the introduction of these kinds of robots allows us to work on much larger projects while also opening up more job opportunities for skilled individuals. It essentially creates a whole new skill demand for the construction industry.
Can robots work autonomously?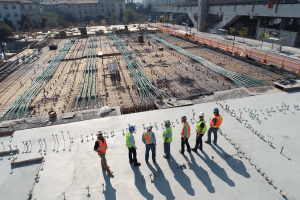 In theory, yes. Robots could work autonomously to perform specific tasks without the need for human intervention. We already see this somewhat with self-driving cars, but that's a different case to a construction site.
A construction site is ever-changing and every project is different. It's impossible to apply the same rules or instructions to two different projects. In reality, technology such as robots need to be programmed to work in a specific way. That's why current robots are perfectly capable of doing repetitive tasks, but they're not suitable for moving from one task to another without reprogramming or supervision by a trained specialist. Perhaps in the far future we'll be able to build an autonomous army of construction robots. But for now, it's more likely that we'll incorporate robot technology into our construction projects rather than letting them take over.
Software to help manage construction sites
One of the key aspects of running a successful construction business is being able to incorporate technology to help you save time and money. Many people don't realize just how troublesome it can be to manage a construction site through pen and paper alone. Documents can easily get damaged and handwriting can often be messy and difficult to read. In addition, taking measurements and amending documents can be a lot of work when you're working with a physical copy. This is why it's become important to adopt computers and software to help people manage a construction business.
Today, there are countless different software and mobile solutions that can help you manage every aspect of a construction project. You can deal with scheduling concerns, you can draw up virtual plans and 3D models of a project, you can manage labour requirements and you can use it to communicate with your team in a more efficient way. There are some well-known tech tools designed for construction companies that are built specifically to assist in the management of a construction site. You can manage construction jobs with JobNimbus or many other different cloud-based tools that can be accessed on an inexpensive laptop or even your smartphone. It also enables the collection and analysis of real-time data to help synchronize projects and updates.
In short, software can have a huge impact on the way we operate our construction sites. It offers countless conveniences, it helps us understand the stage at which the project is at, and it also helps us form coherent strategies when collaborating with different partners.
AI and machine learning systems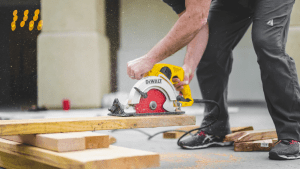 AI and machine learning is something that can be applied to almost any industry. For a construction site, there are some general uses that can also be true for other industries. For example, it's possible to use AI tools to look at employee productivity so you can optimize your team for maximum efficiency. You can also use sensors to keep track of equipment and its condition. You can even use autonomous drones equipped with cameras to photograph, scan and analyze construction sites. This can prepare basic 3D drawings and models which will keep track of the progress of the site.
Deep-learning algorithms can also identify and report on errors. Whether it's utility systems being installed incorrectly and noticing measurements that are incorrect, there are lots of ways for an AI-based system to assist a construction site. Unfortunately, this type of technology is currently in its early stages and not as reliable as people might think. As such, it's still important to have human operatives behind these AI and machine learning systems to help ensure that the outputted result is consistent with what a human would do. As a deep learning system, it needs to fail many times before it can offer consistent results.
Where do we go from here?
The construction industry is filled with cutting-edge technologies that can completely transform the way it operates. It's important to understand that many of these technologies need to be vetted before they can be incorporated into a real project. In fact, it's relatively rare to see these new types of technologies even in the most recent construction projects. This is because adopting new technology is extremely difficult and often leads to problems. Early adoption will always lead to unexpected issues that take time to fix.
In reality, most smaller construction companies simply won't be able to afford these new advances. They'll rely more on manual labour when it comes to the hardware side, and it takes time to migrate their management systems to something powered by software instead of pen and paper. However, these things take time and we can expect to see great advances in the construction industry as these technologies get cheaper and more accessible. Whether that takes a few years or even a decade is difficult to tell, but we'll get there sooner or later.