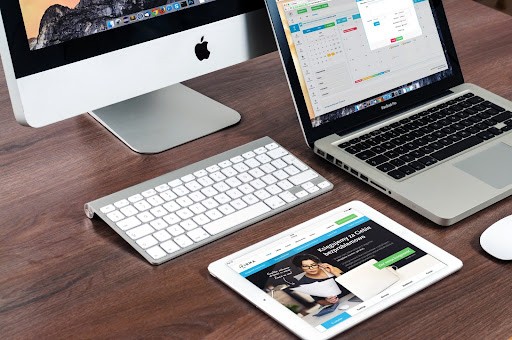 If you're like most business owners, generating new business is your top priority. After all, without leads, you can't make any money! You may have tried various ways to generate traffic to your website, but if you do not see the results you want, it's time to try something different. This blog post will discuss four simple tips that will help improve your website traffic and generate more leads for your business!
1) Make sure your website is mobile-friendly.
In today's world, more and more people use their mobile devices to access the internet. In fact, according to Statista, as of January 2019, over 52% of all internet traffic worldwide was generated through mobile devices! So if your website is not optimized for mobile devices, you could be missing out on a massive chunk of potential traffic. Not to mention, Google has stated that they give preference to websites that are mobile-friendly when ranking search results. So if you want to improve your website traffic, make sure your site is responsive and can be easily viewed on various devices.
If you're not sure how to make your website mobile-friendly, you can do a few things. First, check to see if your website is responsive using Google's Mobile-Friendly Test tool. If your site is not responsive, you will need to make some changes to the design and layout of your site. You can either hire a web designer to help you with this or use one of the many available mobile-responsive WordPress themes.
Another thing you can do to improve your website's mobile-friendliness is to make sure all of your content is easily accessible on smaller screens. This means eliminating sidebars and other non-essential elements that may make it difficult for mobile users to navigate your site. Finally, don't forget about your website's loading speed! If your site takes too long to load, mobile users will likely give up and go elsewhere. Use Google's PageSpeed Insights tool to test your website's loading speed and get tips on how to improve it.
2) Use social media to drive traffic to your website.
Social media is a powerful tool that can generate website traffic. By sharing your content on social media sites, you can reach a larger audience and get more people to visit your site. Not sure how to get started? Check out our blog post on How to Use Social Media to Drive Traffic to Your Website for tips and advice!
When using social media to drive traffic to your website, it's essential to post interesting and engaging content. No one wants to read a boring news article or product review. Instead, try posting something that will make people want to click through to your sites, such as an interesting infographic or an in-depth blog post. And don't forget to include a call-to-action (CTA) in your post! A CTA is a statement or question that encourages people to take a specific action, such as visiting your website.
It's also important to be active on social media and interact with your followers. If you're only posting one-way content, you're not going to get very far. So instead, take the time to like and comment on other people's posts and answer any questions. By being active on social media, you'll not only drive more traffic to your website, but you'll also build relationships with potential customers and clients.
3) Create engaging content.
As we mentioned before, one of the best ways to generate website traffic is by creating engaging content. But what exactly is considered "engaging content?" Engaging content is anything that people find interesting and want to read or watch. This can include ai writing in blog posts, infographics, videos, and more. Anything that people will enjoy consuming!
One of the best ways to create engaging content is to focus on topics your target audience is interested in. What are their pain points? What are they looking for information on? By creating content that speaks to their needs and interests, you'll be more likely to engage them and get them to visit your site.
Another tip for creating engaging content is to make sure it's visually appealing. People are more likely to read or watch something if it's easy on the eyes. So use images, infographics, and videos to break up your text and make your content more visually appealing.
4) Optimize your website for search engines.
If you want people to find your site, you need to optimize it for search engines. Search engine optimization (SEO) is the process of making sure your website is designed to make it easy for search engines to find and index your content. When your site is optimized correctly, it will appear higher on search engine results pages (SERPs), which means more people will see it and visit your site.
There are several things you can do to optimize your website for SEO. First, choose the right keywords and use them throughout your site. Keywords are the words or phrases that people use when searching for information online. By including relevant keywords on your website, you can help search engines find your site and improve your ranking.
Another important SEO tip is to make sure your website is mobile-friendly. More and more people are using their phones and tablets to access the internet, so your site must be designed for mobile devices. Use Google's Mobile-Friendly Test tool to see if your website is mobile-friendly and get tips on how to improve it.
Finally, one of the essential SEO tips is to create quality content. Search engines favor websites that contain high-quality, relevant content. So, if you want your site to rank well in search results, make sure you're creating informative and engaging blog posts, infographics, videos, etc.
By following these tips, you can generate more traffic to your website and generate more leads. Just remember that it takes time and consistency to see results. So, don't get discouraged if you don't see a considerable increase in traffic overnight. Instead, keep at it, and eventually, you'll start to see the fruits of your labor!