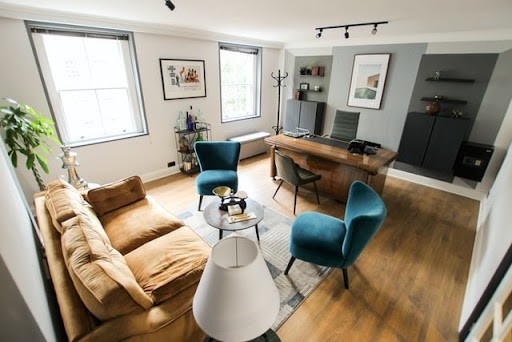 Your home office will become a place where all of your best work and most creative ideas take place. If you already have a home office, you can still implement some of these tips to see an increase in your workflow productivity. 
It doesn't matter how long you spend in the space; what matters is that when you are there, you are motivated and ready to get deep into your workflow. 
Many people are looking for ways to work fewer hours, and one of the ways that are proven to give workers that are closing the door and focusing on the tasks at hand and some automated processes. 
So how can you make sure your home office gives you what you need to be the most productive? 
Where
Many people start their freelancing or small business journey working from a kitchen table or a small nook in the house. Over time though, the regular noise and demands of running a household can become more of a distraction. 
Taking calls can become more complicated and even make you feel unprofessional when your background is the kitchen cupboards. 
If you don't have a spare room in the home, look for a place with the least interruptions and foot traffic. Or, if the budget allows for it and you have the space, consider an extension. 
Electrical
You probably need at the minimum electrical output for your laptop charger. But many home offices need more than just that. Printers, lamps, a desktop pc setup, a laptop, a charging station for your mobile phone and tablet. That adds up pretty quickly. 
Have some power outlets professionally fitted by a local electrician rather than deal with the dangerous option of having everything plugged into an extension. These extra outlets will mean you aren't worrying about unruly wires or the unsafe extension option – and you have all the outlets you need.
Ergonomic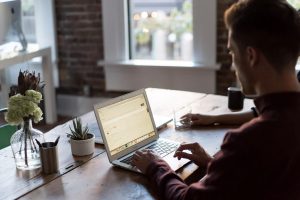 Your desk and chair and other furniture in your office significantly impact how long you can work comfortably. If your desk and chair aren't high enough for you or too high, you will notice strain in your lower back, shoulders, and neck. 
Over time this means that working will become uncomfortable. 
You may notice lower backache as one of the first things when you aren't sitting comfortably. 
A very popular option is to switch to a standing desk rather than a sitting one. An adjustable wooden desk with a raising bar or one of the new design options can be ideal. 
Some research states standing desks are better for creativity – and that is certainly worth some consideration. 
If you are working with a tiny space, then a desk that can be folded up into the wall can be an incredible option. Once you are finished working, you can simply fold it back up. A foldable desk is an idea for those who have trouble switching off from work, as it means you aren't looking at your workstation – even if it is in the living room.
Meetings
Although most meetings now take place over Zoom or other video call software, there might be a meeting you need to take face-to-face from time to time. This is easier to do if the home office is separate from the main building of the home. 
It's not impossible to have meetings in the home, so long as your home is ready for it. That means making sure there is enough space to talk business without being interrupted. Your client's comfort and confidentiality are of the utmost importance. 
If you can add extra seating in your office space, this might be a great compromise – so long as the clients don't need to walk through a sea of children's toys and the rest of your home life to get there. This, of course, depends on your business and your relationship with your clients. 
Lighting
If you have an office built to spec, you must consider how you can maximize natural light during the planning stages. Natural light is one of the best things to keep up productivity, but if you work in design or a creative career like painting – it can offer a true-color view of your work. 
The trick is to get as much natural light without having glare, so windows that have some shades, blinds, or privacy film can often soften the light as it comes in – without compromising how much light you get. 
If you work late into the evening, then a range of lamps can help with the atmosphere and stop you from getting eye strain as you work. 
Refreshments
We know that getting up and walking away from our work station at least every hour is essential – so, make it easy for yourself. Consider adding a coffee machine and a small fridge in the office. This means that when you are in the middle of your most important tasks, and you need to take that five-minute break if you can't or don't want to leave the office – you don't have to. 
It is also a nice touch to offer any clients a drink when they are in your office. 
Accessorize well
Keeping yourself on track and motivated to achieve or complete your work might take more than a room with nothing in it. Instead, focus on what you can have around you that makes you motivated and inspired. 
Typically people use things like artwork, a window with a view, or books to inspire them. Try to have the interior of your office suit what your future goals are for your business or your career. 
There are many styles of home office, and the interior should be personal to you. Having a personalized office space is a luxury that isn't usually available if you work in-house and should be something you take full advantage of. 
Space to walk
If you don't want to take extended breaks from your office space, you might need to make sure that you have some room to walk. Often during phone calls or when thinking, people pace back and forth. Not o
If you're still in the dreaming stages of your home office, or maybe even working from home, check this page for inspiration: Making Money Online