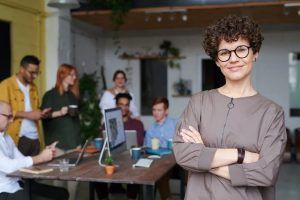 When it comes to fitting in with your company's culture or tooling yourself to get ahead, it's important to know what's expected from you. Only then can you innovate and hope to improve, or to offer something new. As they say, in order to play jazz, you need to be able to understand music and to know the rules before you break them.
This is true of those who hope to grow and become better or more competent in the business field. It takes time, energy, enthusiasm, and willingness to try and improve yourself as a professional, let alone to actually achieve it. 
Let's not forget that the business world is competitive, and so even those with the smallest edge often get ahead. With that perspective, it's important to understand how you can use extra methods of getting noticed, of putting yourself forward, and of ingratiating yourself with the higher-ups and doing so in a manner that is anything but artificial – something that we can often find hard to keep up with.
Let's consider some advice to this end:
Read Advice Blogs
Sometimes, the best advice you can get are blogs written by industry professionals that are more than willing to share their expertise, help you avoid the mistakes they may have made while providing the larger truths that help you better operate in your professional field from day to day. There may be industry figures giving keynote talks you simply need to hear, or, in the case of Stephen Michael Hourigan, professional and life advice that spans practical business lessons from an industry veteran all the way up to golfing tips to better connect with your managers – it's the wise person who deigns to learn from those around them. Don't be afraid of making that effort.
Understand Your Company
The firm you work for is one among many, and if it's operating, it's doing something right. It's important to truly pore over your company vision plan, understand its projects, consider the wider context for these efforts and ask your managers or bosses for context when necessary. Take an active interest in the life of your firm. This will help you submit more creative ideas that get you noticed, it will help you understand where you currently fit in (and how you may fit in tomorrow), as well as making you aware of company training plans or initiatives you can voluntarily sign up for. All of these efforts will no doubt do their part in getting you ahead.
Be Better Than You Were Last Week
It's absolutely fine to make mistakes – we all do. It's not fine to continually make them or to expect others to repeatedly cover for you. Taking full responsibility for your actions, spending time reflecting on what went wrong, understanding where your flaws may lie, all help you curate yourself as a better and more competent professional. If you can make sure to keep this effort up, you'll be in a much more promising place as you are now the very definition of an asset ever-increasing in value.
With this advice, we hope you can more easily refine yourself as a professional.