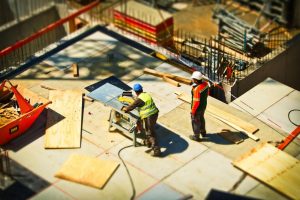 Construction is one of the most booming industries in the world today. It has grown rapidly over the past few years and will continue to grow for many more years. The construction industry is so big that it can be intimidating if you are just starting, but don't worry! There are many resources available to help you start your own construction business. 
Here are nine different materials that you should know about before getting started with your new business venture.
Bricks
Bricks are the cornerstone of any construction project, so it's important to know what type and how many bricks you'll need. Bricks come in various shapes, sizes, and colors, including modular building blocks designed for specific uses like walls or mortar joints between two rows of bricks. Depending on your needs, you can add a layer of bricks (known as a "casing") to the outside of your wall for decoration or insulation purposes.
Concrete
Concrete is a building material for floors, sidewalks, and driveways. You can also use in home construction and design to construct walls, pillars, or beams of buildings. Concrete has been around since ancient times when Romans first developed it due to its inexpensive nature, which made it an easy choice even at that time.
Concrete is also sensitive to different factors such as temperature change which can either weaken or strengthen it, so you must be careful when doing work with this type of material.
Aluminum
Aluminum, such as aluminum 6061, is a lightweight metal that you can recycle. It has the second-highest strength of all metals, and it does not rust, making it an excellent choice for exterior construction use. Aluminum is also recyclable, which will help you save money in the long run on your building materials costs.
Ceramics
Ceramics is a type of material used to build homes, bridges, and other structures. It comes from different materials such as clay or porcelain. Ceramic tiles are also standard in construction projects when cladding walls with marble and granite countertops for kitchens and bathrooms. So you can invest in this material and add it to your business's portfolio for an edge.
Copper
Copper creates water pipes, the Statue of Liberty, and electrical wires. In addition, it's often used as an architectural element because it ages well with time when exposed to oxygen and rain. Many copper roofs come from recycled material, which makes them environmentally friendly.
Fabric
You can use fabric to make tents, tarps, and more. Fabric is an often overlooked construction material that anyone with a sewing machine should consider using for some of their projects.
Glass
Glass is one of the most popular materials to use in construction for several reasons: it's modern-looking, durable, easily replaced if needed (unless you're using tempered or laminated type), and easy to clean. There are many types of glasses out there, so pick the right option for your needs.
Plastic
Plastic is a versatile material with many parts in the construction industry, such as plastic sheets and tape. It's easy to work with because you can cut it into any shape needed, but also because of its durability – plastics are just about indestructible! Plastic is inexpensive too, so you get more for your money.
Steel
Steel is a commonly used material in the construction industry due to its durability and ability to be welded. You can also galvanize steel, which creates an additional protective coating for steel that prevents corrosion from developing on it.
Conclusion
The Bottom Line: Starting a construction business is not as simple as you might think, and it takes time, patience, preparation, and planning to get started successfully. Additionally, it will be necessary for you to have liability insurance to protect your clients should anything go wrong on the job site.