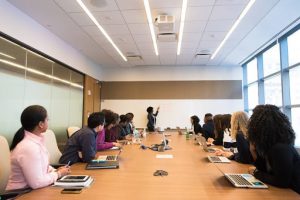 When you are running a business it cannot be done alone. You could be that person who sits at a desk and works late into the night, but why would you if you could work with a great team who help you to run your business? Good help is the hardest thing to find but you can do so much better as a business if you have a team behind you who care about what you do. 
If you are not investing in the people who work for you that you personally hand pick, you are going to see a high employee turnover. You won't have loyal employees because they feel that you don't care about them – and that has to change. You want the future of your business to be set and the best way to achieve that is with happy, loyal and motivated employees working hard for you. Investment is key to engaging your workforce and with the tips below, you can bet that you will see a difference in your staff. Let's go through them!
Investing in your employees is an important strategy for any company that wants to succeed in the long term. Not only does it help to retain valuable talent, but it also enhances their skills and knowledge, leading to improved productivity, innovation, and overall business performance. Here are some advanced ways to invest in your employees:
Tailor development programs to individual needs:
Rather than offering a one-size-fits-all approach to employee training and development, customize the programs to suit each employee's strengths, interests, and career aspirations. This personalized approach will increase engagement and motivation, leading to better outcomes for both the employee and the organization.
Offer coaching and mentoring
Pair employees with experienced mentors or coaches who can guide them through challenges, provide feedback, and help them develop new skills. This approach not only accelerates learning but also fosters a culture of continuous improvement and knowledge-sharing within the organization.
Provide opportunities for job rotation and cross-functional training
Encourage employees to move between different departments and roles to gain new perspectives, expand their skillsets, and develop a deeper understanding of the organization as a whole. This approach also helps to break down silos and foster collaboration across teams.
Support further education
Offer tuition reimbursement or paid leave for employees to pursue further education, such as an advanced degree or certification. This investment not only benefits the employee but also equips them with new knowledge and skills that can be applied to their work, benefitting the organization as well.
Recognize and reward achievements
Celebrate employee achievements, whether it be completing a challenging project, receiving an award, or achieving a significant milestone. Recognition and rewards not only boost morale but also demonstrate the organization's commitment to employee growth and development.
Invest in Development
You are not just hiring worker bees. You are hiring people with dreams, goals and families. They aren't just working for you to gain a salary, but to build their own professional and personal lives into what they see for themselves. People matter and a big part of investing in your people is investing in where they will be in a decade from now. Think about things like GD&T training, courses for their role, courses that will push them to promotion. It all counts and you can be a part of ensuring that they get the professional development that they need to succeed.
Focus On On-Boarding
It's always nerve-wracking to bring on someone new, but the biggest way to ensure that new people won't quit in their first year is to be vigilant with the way that you bring them on board. If you don't engage people on their first day, you are likely to lose them. They need to feel switched on and cared for, and the only way for that to happen is if you make a point of scheduling their first day and ensuring they understand your values.
Be Clear
As an employer, you will have certain expectations. Some employees will be expected to go above and beyond more than others. If your employees are confused about their role, they won't be as engaged as they could be. It's up to you to ensure that your staff are not falling behind. Be very clear in what you expect from them for the future and make sure that they are comfortable with their role from day one.
Make Them Feel Welcome
When someone comes into your business for the first time, they are looking for more than just a payday. The workplace is somewhere that they can socialize and thrive as a person as much as they are planning to professionally. So, buddy up! Make your newbies feel like they can fit in from day one and you will have won half the battle!
Don't Be Threatened By Their Success
It's an unfortunate truth that some employers end up feeling threatened by their employees if they thrive with courses and promotions. You do not need to feel threatened by the people working for you. Why? Well, they're learning from the best – you! They need to know that you buy into them as people and the only way you are going to achieve that is by believing in them and encouraging all their success. The workplace is not a place for jealousy.
Give Them Balance
Your staff need to know that they have more than just hours of slog to look forward to. Helping them to prioritize a work-life balance is a must if you want happy and productive people working for you. Don't burn out the people who want to work for you – happy people don't perform when they're exhausted. If you make a point of forcing a balance, people will respect you a lot more and they will be willing to work harder.
Build Your Team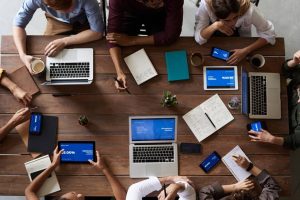 People don't always get along, and that's okay – people are different. The problems arise when you try to force people into situations they are not comfortable with. So, you need to make it easy and put on as many team building activities as possible to build your team into one entity. They don't have to socialize outside of work but they sure have to work well together.
Pay WELL
It's a given, isn't it? People want to be paid what they are worth. So, don't compensate people what the minimum wage says you should pay – pay more. Be competitive with what you can offer and people will flock to you. Investing in their salaries makes their stress outside of work reduce significantly. If you can reduce their stress, they're going to be happier people!
Consider Perks
Outside of money, perks attract excellent talent. There's nothing magical here: ask the people who work for you what would make them feel motivated to work. From extra pay for overtime, to paid breaks and a monthly lunch on you, there are plenty of perks that will keep people interested. People love free food and love to work flexibly!
Promote Workplace Health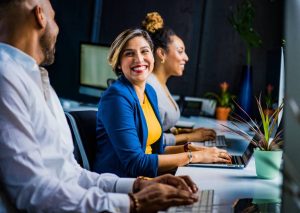 Offer great health insurance and a free gym membership to your staff and do what you can to promote a healthy environment. Offer free fruit and veggies and provide clean, fresh water on site to help. You need to know that your staff are healthy – the better they feel, the more they are at work and killing it! Fostering a healthy work environment is important if you want a low absence rate.
Host Reward Events
If you make sure that you host a monthly event for recognition and rewards, you can ensure that people feel motivated and supported when they have something to work towards. Praise and recognition is going to help your staff to feel productive and something as simple as praising the people working for you publicly can make a difference.
Get Personal
Make birthdays, retirements, baby news and engagements a big deal. It's eight hours of the day and more that people are spending with you, so make sure that you are recognizing the personal achievements in life.
Promote From Within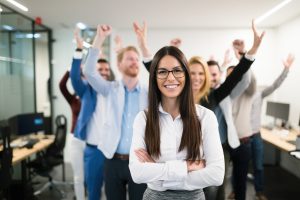 Sometimes, people need to feel like you care about their future within your business. If there is a chance of a role and you have people to promote within, do it! People can move laterally in your business and you can create some passion in your people when you do that. The chance to promote people from within can give them the boost they need personally, too.
Ask For Feedback
It's not nice to hear people are quitting your business but if you ask for feedback about how you work, you can do better and prevent more quitting employees in future. People need to know you care about their happiness, which means that you need to be willing to learn what's going wrong for your employees. You all must communicate effectively in the workplace, otherwise there is going to be problems that are long-term. Send out surveys and ask people in for monthly meetings to ensure that their grievances are met. It isn't nice to hear when you are in the wrong as an employer, but if you don't know, you're risking people leaving you and not knowing why!
Deal With Duds
Every office has at least one nay-saying and negative employee. You likely have one and it's also likely a name has popped into your head at the suggestion. That one toxic employee needs to be dealt with swiftly. If you don't deal with them, you end up with unhappy staff who feel low. People don't leave bad jobs, they leave bad relationships with colleagues and their superiors. Toxic employees can drain the life from your business and put people on edge, and that's not teamwork. If you are the employer who gets rid of the duds, you're going to limit their negativity on the rest of the team. It's often a hard decision, but it's going to benefit your employees more than you think. The better you treat the office as a whole, the happier people will be.
Investing in your employees is so important for your success as a business. Without the support of your employees, you're going to risk people tarnishing your reputation as an employer. It's so important that you identify where you can invest in your business and the more you do it, the happier your team will be. Happy people work better and this allows them to progress properly. Be the employer who cares about their staff, and you'll quickly reap the rewards and see your people progress well. Investing is important – where will you start?