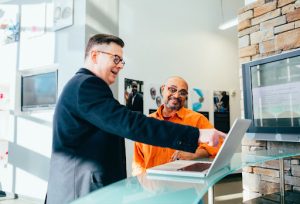 In this period of a health crisis, which you have been going through for several months, has made the practice of your traditional activity more complicated than ever. To continue it and maintain a minimum of turnover to pay your expenses and employees, you may want to sell "at a distance". But how do you create or maintain a remote business activity, as a salesperson, in such chaos? This article is intended to guide you through a set of practices and processes for making distance selling possible. 
Processes for selling remotely in times of crisis
While the coronavirus paralyzes the whole country and its businesses even to this day, we must continue to maintain the course and sustainability. While some businesses are authorized to open their doors, others must find solutions to continue to generate income. This is through the sale of goods and services at a distance for example.
For businesses that cannot open their offices, it is quite possible to sell remotely and have products delivered. Using simple means such as drive-through service, door-to-door delivery, or sales by phone or email, you could continue to grow your business. Several scenarios are then possible. Usually, you don't do distance selling, but you have a website? Have your marketing departments write a sales page. They should mention that you are continuing your activity and that you can, if your customers wish, make sales.
If you sell services, you could offer consultations by videoconference or telephone. Are you selling merchandise? Write a list of all your products, and offer it to your customers. They can then choose their merchandise via your website, and then order either by e-mail or by phone. Any employees (if you have any) will then be able to make home deliveries.
Choose the right tools
You do not yet have a website, but you have a CRM or a well-supplied customer file, which contains all the contact details of your customers and prospects? Set up a long-distance business relationship without further delay! For example, you could call them, send them an email, or contact them via LinkedIn to set up video conferencing. To do this, equip yourself with good tools such as Zoom or Skype, and prepare a presentation of your services to distribute to them. For your salespeople, this will not change much, the process of making an appointment or distance selling will always be the same. First contact, discovery phase, sales pitch, conclusion phase. Also, don't forget to update your information and contact details on social media, so that your customers can continue to contact you during the crisis. Thanks to all of these actions, you will stay in close contact with your customers and you could even acquire new ones.
Good practices for deliver 
The deliveries must primarily take place in the mailboxes of the recipients. To do this, you will have to try as much as possible to optimize the size of your packages, in order to facilitate this type of delivery as much as possible.

If your packages cannot fit in standard letterboxes, your employee or delivery person (if you use a third-party service) will have to notify the customer of his arrival. The package will then be placed in front of the door and the delivery person must respect the minimum safety distance of 1 meter.

In addition, barrier gestures should be systematically reminded of all of your staff, deliverers, and customers. As a reminder, this is to specify to wash your hands well after receiving the package and to wait a few hours before opening.
Services and buying online
You may also want to look at funding for ecommerce to ensure that you can continue working during difficult times. One of the primary advantages of e-commerce is the investment cost which is much lower than that of a store. In fact, the rental and expenses of traditional stores amount to thousands of euros without counting the cost of staff. The technology of e-commerce sites makes it possible to reduce many tasks. Also, if you opt for drop shipping, no inventory is needed. So you can add new products to your catalog without worrying about product shipping. Reduce your advertising and management costs by choosing the best marketing solution: a good website, natural referencing, Adwords (PPC) campaigns. You can look at social media as a way to manage and promote your business. The options are endless for sales of any kind. It is time to take back control even when it feels impossible.