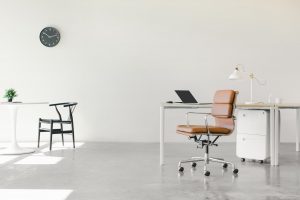 Looking after your health is incredibly important, unless you put your well-being first you risk becoming burned out and stressed. Luckily there are lots of ways that you can look after your health in the workplace.
1 . Use wellness tools
To support your health during the working week, there are plenty of wellness tools that you can use. Welltok is a workplace wellbeing platform designed for small businesses. The software has many different wellness categories and activities including mental health, fitness, financial health and more.
For individuals, apps like Happify and Ten Percent Happier are useful self-care tools. These apps include lots of useful exercises to support well-being. Download a wellness app, and aim to complete one short activity per day, during a work break.
Create a healthy workstation
To look after your health at work it's important to create a healthy workstation. Whether you're working from home or in the office, you'll need to set up an ergonomic desk. Purchase an ergonomic chair and use the Ergonomic app to help you set up your monitor, keyboard and desk. There are lots of other ways that you can improve your workplace, including:
Decorate using plants, plants are helpful to lift our spirits and improve the air quality.

Declutter your space, get rid of objects that you no longer use.

Use bright colored artwork, to create an attractive space.
Set boundaries
To avoid becoming stressed and burned out, it's important to set boundaries at work. Only take on a workload that you feel comfortable with, and communicate with colleagues if you need support. Use project management software to help you manage your workload, and collaborate with your team. 
If you are your own boss you'll need to delegate tasks effectively, to avoid becoming overworked. If you're an employee, you'll need to communicate with your managers, to ensure that your deadlines are manageable. To prioritize your health it's important to set boundaries.
Take regular breaks
It's important to take enough breaks throughout the working day. Breaks are helpful to reduce stress, boost productivity and improve health. When you take breaks, think carefully about how you are using them. Focus on relaxing and energizing activities. Here are a few ideas:
Turn off your phone and meditate for five-ten minutes.

Talk a walk to stretch your legs.

Squeeze in a short yoga class.

Eat some healthy snacks.

Practice positive affirmations.

Read an inspiring book.
Get support
Depending on your state of health, you might need further support to improve your health.  Kevin Lucas helps clients to manage chronic pain conditions, he is an entrepreneur, public speaker and a health and wellness advocate. Kevin has plenty of experience in supporting people to manage pain, and improve their health. To learn more about Kevin's work, take a look at New Hope Regeneration.
With the right support and the right tools, it's easier to look after your health during the working week.