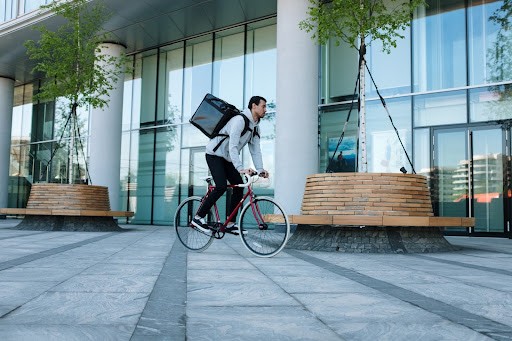 In today's digital age, customers have come to expect convenience and speed in almost every aspect of their lives, including food delivery. With the rise of third-party food delivery services such as DoorDash and Uber Eats, restaurants are presented with an opportunity to expand their reach and increase their customer base. In light of this trend, restaurateurs should consider taking advantage of these services to drive more business and maximize profits.
Benefits of Food Delivery Services: 
Cost Savings: 
One major benefit for restaurateurs is that using a delivery service can save money on operational costs associated with delivering food themselves. 
Third-party delivery companies absorb the costs associated with delivery, including overhead costs such as fuel and labor, which means that restaurateurs can offer customers food delivery services without taking on additional expenses. 
This helps restaurants keep their profit margins high while still offering customers the convenience of receiving their food at home. 
Increased Reach: 
Another benefit of using a food delivery service is that it helps restaurants reach a much wider audience. 
By partnering with these services, restaurateurs can expand their customer base and target customers who are located farther away from the restaurant's physical location. 
This is especially beneficial for smaller restaurants that may not have the resources to promote their business to far-reaching areas effectively.
Improved Efficiency: 
Food delivery services also help restaurants become more efficient in their operations. 
These services allow restaurateurs to easily manage orders, track deliveries, and provide customers with an easy-to-use ordering system. 
Furthermore, many of these services connect directly to a restaurant's POS system so that orders can be quickly and accurately processed, resulting in less time spent taking orders and more time focused on customer service. 
How Can Restaurateurs Start Taking Advantage of Food Delivery Services? 
With the numerous benefits of delivery services, restaurateurs should consider using them to enhance their operations and reach more customers. 
1) Do Research: 
The first step to taking advantage of food delivery services is researching. Restaurateurs should take the time to compare different services and determine which ones will benefit their business most. They should also look into the fees associated with each service and any additional features that may help their operations run more smoothly.
2) Partner Up: 
Once a suitable service has been chosen, it's time for restaurateurs to partner with them. This involves signing up for their platform and setting up the restaurant's profile on the service. Restaurateurs should also take the time to familiarize themselves with how the service works, so they can best utilize it for their business. 
3) Install Management Software: 
Restaurateurs should consider investing in a food delivery management system, such as VROMO's food delivery management system, to help them streamline their operations. This software allows restaurants to track orders and deliveries in real-time, making it easier for restaurant staff to manage their orders efficiently. 
Taking advantage of food delivery services can be a great way for restaurateurs to increase their reach and boost sales. By properly researching which service will best suit their needs, partnering up with the service, and investing in management software, restaurateurs can make the most out of food delivery services and drive their business to success.