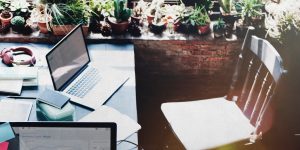 There are few things more important in the world at the moment than living a lifestyle that's as green and as eco-friendly as you can manage. And although you should always make sure that you're separating your recycling and biking instead of driving in your personal life, there are also things you can do at work to ensure that your business is more eco-friendly. Here are a few tips to help you out.
Conserve Water
First of all, make sure that you're conserving water in your office. Leaky faucets can often lead to gallons of water being wasted every day, and not only is this incredibly expensive but it's also terrible for the environment. Install toilets with two flushes so that people can choose how much water they want to use when they flush, and speak to a plumbing expert to see if there are any eco-friendly devices that you could use in your office to save water.
Get Energy-Efficient Appliances
When your old appliances start to fade away and spark out, it's time to replace them with energy-efficient appliances, such as kettles that use less energy. Using a comparison site is a great idea to figure out which appliances are good for the environment and which are not. You should also replace old light bulbs with energy efficient ones. Not only do they use less power, but they also last for a much longer time, meaning that you'll have to replace them less often.
Use Green Cleaning Products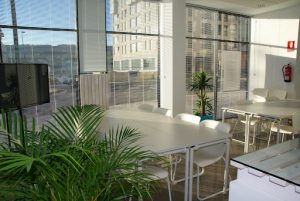 The chemicals in a lot of cleaning products are harmful for the environment and also for the person who's doing the cleaning – breathing in bleach fumes really isn't great for anyone. Look into purchasing eco-friendly products – for instance, aerosols are a big no-no, and look into brands that are environmentally safe.
Reduce Your Use Of Single-Use Plastics
It's a great idea to start taking a look around your office and reducing your use of single-use plastics, which are one of the biggest focuses in environmentalism at the moment. A lot of people may come into the office with disposable coffee cups in the morning – why not give out reusable cups as Christmas gifts one year so that your employees are encouraged to be more eco-friendly? If you have a water cooler, use glasses or paper cups instead of plastic ones, and discourage the use of plastic straws in your office. Finally, if you host meetings where there's food, look for a caterer that uses biodegradable food trays instead of plastic ones.
Get Recycling In Your Office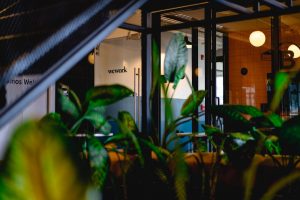 In most offices, a huge amount of paper gets used and thrown away every day. A lot of this paper isn't actually necessary, for starters – stop printing things, where it's possible to do so, and start using screens instead. But if it's unavoidable, make sure that you recycle that paper when you're done. There are multistream recycle bins out there which mean that you'll be able to throw away items in the correct places, meaning that they'll get sent to the right places to get recycled. It's a much better alternative to throwing food waste in the same bin as plastics and glass that can be recycled.
Plant Greenery Around Your Office
If you have any outdoor space at your office, why not turn it into a relaxing space for your staff by planting small trees and some shrubs? Plants at work have been proven to make everyone happier, and it's also a great idea to put more oxygen into the world as they convert carbon dioxide, making the atmosphere in your office considerably cleaner and more comfortable. Making the world a physically greener place is just as important as making it more eco-friendly! You could also add some low maintenance plants into the office itself – just make sure that they get watered every day because there's nothing more depressing than a drooping plant.
Look Into Alternative Energy Sources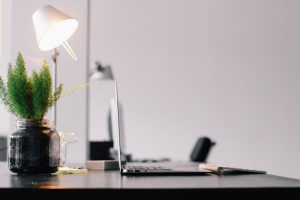 One great way to get more eco-friendly is to swap to renewable power sources. The easiest way to do this is probably installing solar panels – this can also save you lots on your energy bills. It's a good idea to switch to a more green power company – you could even use a renewable energy provider to host your website.
Use Eco-Friendly Promotional Products
Finally, when it comes to promotional products, ditch the tacky branded plastic pens and go for something more environmentally friendly – you could go for branded reusable cups and straws, notebooks made from recycled materials, pencils, and reusable shopping bags instead.
It's easy to go green in today's business environment – these ideas should help you save the planet in your own small way.

Latest posts by The Saving Gal
(see all)