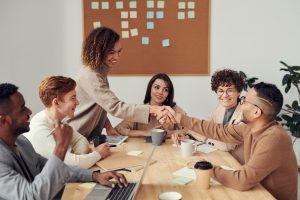 Sure, health and safety isn't the most exciting or progressive areas of focus for your small business. But at the end of the day, there are guidelines, rules, and regulations in place that you have to follow in order to comply with the law and guarantee the best levels of employee safety possible. If you fail to do this, not only do you risk your staff members' health, but you could also find yourself tied up in all sorts of legal battles and court cases, eventually having to fork out compensation for your wrongs. Plus, an employee injury or illness at your hands isn't exactly good for your business' reputation either. So, you need to protect your employees' physical health, mental health and emotional wellbeing while they're at work. Here are a few areas you can focus on to protect your employees as best possible!
Invest in Safety Signage
There are a number of different types of safety signage that you need to put in place for your staff members' benefit. There are permanent signs and temporary signs. One example of a permanent sign you need to invest in is fire safety signage. Fire exit signs should indicate the nearest fire exit at several points in your commercial premises. They should glow in the dark in case of a power cut out. There are also permanent signs that can indicate hazards in your building, such as low ceilings or unexpected steps or drops. Temporary signs can include wet floor signs, which should be put out when a slip hazard is identified and removed once the wet floor has been dried or the threat has been otherwise resolved.
Invest in Ergonomic Furniture
Your employees are likely to sit at the same desks day in day out. This can put them at risk of issues such as repetitive strain injury. It's essential that you minimize this risk and protect them by investing in ergonomic furniture. This is furniture that is specially designed to help their posture and to support them safely while they work. There are ergonomic desks, ergonomic office chairs and other forms of ergonomic support, such as standing desks, keyboard wrist rests, ergonomic keyboards and mice and much more.
Establish a HR Department
It's important to protect your employees' mental and emotional well being as well as their physical well being. They should have someone to turn to if they're experiencing stress, troubles, or other issues. A HR department can help with this. While a HR department will carry out many roles, one is to provide support to employees as and when they need it. This could include approving compassionate or bereavement leave, dealing with workplace problems or inter-colleague problems and more.
These, of course, are just a few different ways that you can protect your employees' overall well being while they are working for you. Not only is it your responsibility to do this, but it will benefit you too! Happier staff are more productive staff and will complete better quality work!