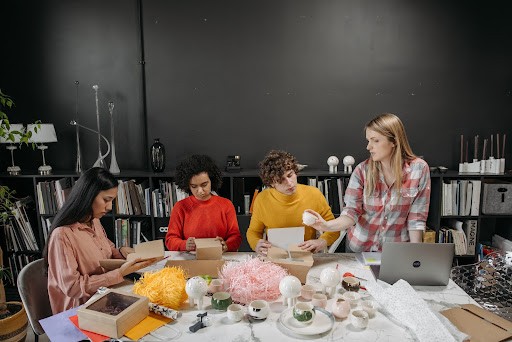 Running a small business isn't easy, as there are many different responsibilities that you have to think about during each and every shift. Managing a company while overseeing a team can be tough, and it's easy to let productivity levels slip as a result. Fortunately, learning how to gain back control over your team to better promote productivity doesn't have to be as difficult as you might expect, as there are many simple steps that you can follow to boost staff morale and reach your full potential in no time at all. So, if you're interested in finding out more, then read on!
Set Motivational Goals 
One of the easiest ways to promote great productivity levels in your small business is to set motivational goals that your staff can aim for. Forcing your employees to wander aimlessly from task to task with no sense of direction will no doubt impact the way that they can operate, as you need to set clear goals that they can work to reach in order to feel accomplished and proud of their efforts. Make sure that the aims you set are challenging yet still achievable, as making their goals too difficult to reach will have the reverse effect. Offering rewards to those who repeatedly meet their goals can further boost productivity, as they'll surely want to benefit from a potential bonus or an extra day's holiday. Don't make the mistake of offering a low-level reward like a box of chocolates, as this could easily be perceived as an insult suggesting that you undervalue your employees' hard work. Offering rewards can be motivational for both the recipient and those around them, as those around them will be inspired to get their head in the game and work harder to achieve the same goals and enjoy the same benefits. 
Promote Better Organization
Another brilliant way to improve productivity in your small business is by promoting a better organization. Having no plan of action will cause your limited team to descend into chaos, as you need a clear sense of direction with set rules and boundaries for your staff to follow. Thankfully it can be easy to promote better levels of the organization, as you can begin by setting regular meetings that allow you to catch up on any news, monitor progress, and discuss the motivational goals previously mentioned. A once-daily meeting in the morning will help to set your team up for the day, reducing the chances of confusion and time wastage. Additionally, setting deadlines that your team can stick to can also be beneficial, as this will ensure that you do not waste time or achieve low levels of efficiency. You may also wish to search for applications that promote better task management for teams, as this can aid you in staying on track towards ultimate success. 
Set The Best Example
Owning or managing a small business provides you with the chance to run a close-knit team, developing a strong relationship with your limited number of colleagues that you can use to your advantage. However, the only way that you can successfully lead your talented team to victory is by setting the best example, as they need someone who is just as hard-working as they are to keep them motivated during each and every shift. Tackling your own inspirational issues might not be easy, but it most certainly will be worth it – being a productive boss will help your entire team function more efficiently, as they can look up to you as a guiding light that shows them the ideal route to success. Changing your own ways won't be easy, but you can begin by utilizing the two steps described above. Set yourself some goals as you would for your employees, and aim to improve your own organizational skills to benefit your career. Proving that you're totally involved in your small business shows how committed you are, which can be greatly inspiring for your staff. If they see that you do not care about the company or its customers then they will simply follow suit, so set the best example today to boost productivity like never before.
Promoting excellent levels of productivity within your small business has never been such a simple task when you can take the time to utilize some of the brilliant tips and recommendations that have been carefully described above. There's no time like the present to point your team in the direction of ultimate success, so what are you waiting for?