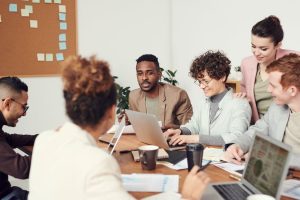 As an entrepreneur, you know how important it is to take care of your employees. But what does that mean? It means more than just making sure they are paid well and have benefits; it also includes creating a healthy work environment for them to thrive.
In addition, as an employer, it is your responsibility to make sure that all the different aspects of a person's life outside of work are taken care of so that they can be their best at work.
If you're feeling overwhelmed with employee welfare and don't know where to start, here are some essential tips on how you can create worry-free employee welfare.
Make Resources Available
The first step to creating a healthy work environment is by providing employees with the resources they need to do their job well and be successful. Provide them with training, give them opportunities for career advancement, and mentorship programs if possible. It will help make sure you have happy people who are feeling fulfilled and challenged constantly. 
Take Care of Their Health
Think about what your employees will need to keep them healthy and happy outside of work. What are the closest stores, places, or programs around or within your business where your employees can break the work routine?
You also want to ensure you're providing some benefits package, health insurance, dental and visual plan, as well. However, there have been scandals in recent years wherein employers have been found guilty of providing inadequate health coverage for their employees, such as at the Japanese security firm Secom.
If an employee is struggling with addiction, it's your responsibility to make sure they have access to the resources and treatment to help them get better. It may be helpful if you offer a referral service for rehabilitation facilities if someone needs something more intensive than what you can offer on-site.
Legal Responsibilities
It's your responsibility to make sure that you're paying employees above the legal minimum wage. It is essential to pay your employees on time to keep them happy and productive.
You should also ensure that your employees get what they deserve as per the regional laws and regulations: leave days, minimum wage, insurance, and benefits. Even though you may have a company lawyer or HR specialist, you need to check out the Labor Law Posters for any changes that you will need to effect. 
Have a Safe Work Environment
It's also essential to make sure that your office is a safe and welcoming place for all employees, whether they are part of the LGBTQIA+ community, have disabilities, or struggle with mental health issues. There should be no discrimination whatsoever in any form because we want people who come into work feeling valued and respected.
Employers need to ensure that their workforce is safe during work hours. It means providing reports on the hazardous materials found in your facility, as well as providing warnings about any potential dangers you know are present regularly. In addition, please provide them with safety tools and equipment that will improve the business's safety. 
Offer Care for Their Children
It's also essential to make sure that if an employee wants to bring their children into work with them, they can do so. You can have a daycare program or the opportunity for a nanny or caregiver to watch the kids while their parent is at work. It will significantly help keep employees happy and feeling fulfilled.
Motivate Your Employees
In today's competitive workplace, it is more important than ever for employers to keep their employees happy. The most recent survey by the Employee Benefit Research Institute found that people who are satisfied with life outside work are 42% less likely to leave their job.
In addition, companies must provide healthy food choices while on the job. For example, employees who work in coffee shops, like the Starbucks on Sixth Avenue, should not only be able to order a coffee and muffin without breaking the bank, but they should also have access to granola bars or bananas for those with dietary restrictions.
As a responsible entrepreneur, you need to be aware of your employees' welfare and its impact on their productivity. You can do this by educating yourself about some best practices for employee welfare, like providing them with health and wellness benefits and using tools such as training. 
Allowing your employees time off is also necessary because they are people too! In addition, doing this will enable you to provide better services to your customers, increasing sales revenue. There is no greater joy than increased profitability, thus making it a win-win situation.