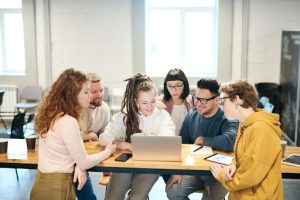 It's not a secret that a business's reputation is important to its success. One bad review can hurt a business's online reputation and cost them money and customers. But there are several ways for businesses to protect their online reputation and keep the good name they have worked so hard to build.   This article will talk about three of the most common ways for businesses to protect their online reputations.
Quick Responses To Bad Reviews Online
A business can protect its online reputation by keeping an eye on its social media accounts and responding quickly to any negative feedback. This shows the customer that the business is doing something and cares about what they have to say. Also, business owners can talk to unhappy customers in person to try to fix the problem.
It's important to remember that a problem one customer has is probably the same problem another customer will have. You will want to fix the problem as soon as possible so that you don't make more unhappy customers. Also, how you respond to a certain comment will matter so that potential customers know it won't be a problem for them.
Google Alerts can be used by businesses to keep track of any mentions of them online. One of the easiest ways for a business to protect its online reputation is to use Google Alerts. By setting up alerts for certain keywords, businesses can get an email whenever those keywords are mentioned online. This lets business owners respond quickly to any bad reviews before they can hurt their business.
You should also consider storing the data from the bad reviews so you can look back and see the issues you are dealing with. Consider looking into data consultancy to understand how best to store your data as a business. 
Checking Websites
A business can also protect its online reputation by making sure its website is always up-to-date and works properly. This means posting new content often, keeping up a blog, and making sure all contact information is correct. Customers should be able to quickly locate what they're looking for on a business' website. If they can't, they're likely to leave negative feedback online.
No matter if it's a personal or business site, it's important that users can easily find their way around it. Because there are so many options, no business can afford to ignore this part of website design if they want to bring in customers instead of turning them off.
Businesses of all sizes need to make sure they always have a good online presence. To show prospective consumers that they are active and care about their online presence, businesses need to make and share high-quality, relevant content.
The important thing is to always be promoting a new product, or service, and not to let your website get a bad reputation for being full of dead links. This one doesn't change, and it's been there for months showing the same thing. In this kind of situation, it's not likely that your old customers will keep coming back to buy your newest product or book another service.
Using Customer Reviews To Their Fullest
Lastly, business owners can benefit from good customer reviews by putting them front and center on their social media pages and websites. Customer testimonials are a great way to show prospective consumers that your business is reliable and trustworthy.
What people have said about your business says everything. At the end of the day, what happens to one person is probably what will happen to another. We all want to buy good things and get good service. It is what you should expect from a business. If you want to get more customers who didn't know how you usually treat people, the feedback you get online needs to show this.
Businesses can protect their online reputation and keep their good name by keeping an eye on their social media accounts, responding quickly to negative feedback, and giving positive customer reviews a lot of attention.