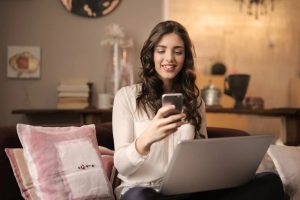 It's true to say that in the digital age, certain things have been gained, and certain things have been lost. We now have the ability to communicate in seconds with someone who is on the totally opposite side of the planet. We could run an entire online business with a partner and never actually meet in person. We can run businesses that are entirely based online without ever opening an office or physical premises.
However, it's also true that in some ways, this convenience is paid for with other disadvantages. That primacy and intimacy between person and business can be quite hard to cultivate in a similar manner as when we used to have to visit shops and service businesses each and every day. Now, you can order a fast food meal in person without ever peaking to the person behind the register, or without ever leaving your house.
For that reason, it's important to consider how we can tackle certain social elements that would have otherwise help your business, namely, the art of 'upselling,' which is easier to achieve with a charming smile in person. In this post, we'll discuss that, and how to cultivate our approach in this way:
Incremental Discounts
Incremental discounts are important to consider. For instance, the more that someone adds to their online basket, you might add an additional percentage to it. So, let's say you're offering a package of services. The basic package might be priced competitively. But then, if you add another option to that, you get a 10% discount, then, perhaps another 10% for the bundles on top of that. Then, you can lower the increment to 5% to make it worthwhile for you, but you'll still be encouraging people to pay for more than they may have otherwise. This approach can be tremendously helpful in getting the best deal for yourself.
Immediate Promotions
Immediate promotions that are given after someone signs up for an account to purchase a product can be pretty useful. This might entail offering a 'welcome set of bonuses' for someone joining, meaning that if they buy something within the first 48 hours, they get a pleasing discount they can use. As you can see, little techniques like this not only offer value but inspire someone to take that final step. Additionally, prize fulfillment services can take this process to the next level, by using rewards to incentivize building that relationship.
Coupons After Orders
After someone has taken that process to the end and has purchased something from your firm, it can be nice to send them a little email with a coupon giving them a percentage off their next order. This not only incentivizes repeat buying but ensures that they remember and think of your firm after they've just used it. If they're satisfied with the product or service, you can be sure that they'll keep that discount in mind. Even if that percentage is 5%, it counts, but we wouldn't recommend going lower than this for the return choice to be worthwhile.
With this advice, we hope you can nail the art of online 'upselling' all for the better.