It's not uncommon for companies to have multiple projects on the go at the same time. But it is unusual to think that all of them will achieve the best result possible. When you have lots of things going on at the same time, it's difficult to quality control. Some things will be worse than expected or could have been. This causes a question to arise. Can a business have multiple projects ongoing, and not slip up? Is this even possible? Can an enterprise commit to multiple projects, possibly 4 or 5, and still achieve absolute success in all of them? The questions and possible solutions will be explored here and now.
Status and situation
The number one thing that all your managers need to look out for, is the status of their projects and the situations they are in. using a company like bluescreen.se for your project management tool needs is highly recommended. They have a system that has an integral status and situation reporting feature. For example, if you have multiple projects on the go, you can check how far each of them has gotten, why they are where they are, what they might need going forward in terms of support and funding, and when they are expected to be resolved. It's very useful to know these things for macro project management. You can change and set new goals, so you can adapt to the situation. 
Project manager meetings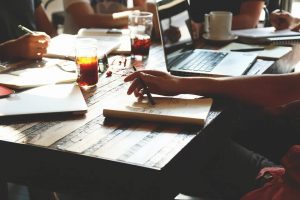 Perhaps the most important factor of project management on a large scale is having regular meetings with the managerial staff. They hold the key to the success of each of their projects. But how should you conduct the meetings? With so many different staff, talking about totally different projects, how can you maintain good knowledge of each?
A good meeting schedule is a key. Having one manager enter your office or meeting room, and then another when you're done, is the obvious manner of conducting the business of the day. Make sure that each of your managers have a presentation each week. They need to give an accurate take of the situation they face. Using visuals is a good way to keep your mind fresh, as sifting through papers all day long can be mentally exhausting.
Financial management
When all is said and done, the main thing to get right is the finances. Each project needs to have it's purse strings closely watched. Project leaders should be giving you financial reports of their expenses and expenditures. The issue could be, that one or more projects end up going over their cost predictions and that leaves other projects with less funds. Using a financial advisor and accountant for each project is a good idea to maintain control over the money needed for each. You may also need to limit your variation of financial bracket timeline, from 5% to 50%. Therefore if the project is not completed within the timeframe set, it is put on hold once it reaches 50% of it's a timeline regardless of stage of completion.
Keeping tight financial management of the project is key but so is the status and situation report, on a weekly basis.