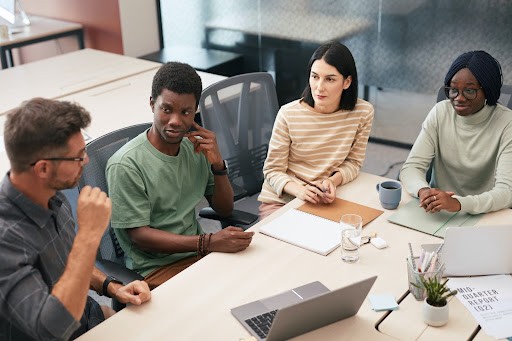 Making sure your company is safe and productive for its workforce is essential for a thriving business. There are many things you can do to make your company safe, from installing fire alarms to providing safety training for your employees. This blog post will discuss some of the best ways to make your company safe and productive. You'll also find tips on how to create a safe work environment that employees will enjoy!
#1 Provide safety training for employees
Safety training is a great way to make sure that everyone on your team understands how to stay safe and be productive. The best part about this type of program is it allows employers to provide their employees with the knowledge they need in order to do their jobs well while also helping them understand what can happen if things go wrong! By doing this, you'll help to lower the chances of diseases such as silicosis as well as other work-related injuries due to negligence or lack of training.
Make sure there's an open-door policy at all times, so people feel comfortable asking questions or bringing up concerns without fear of reprisal from management. This will help create trust among staff members who may not always agree with each other but want nothing more than success for themselves and those around them – including you! If there are any hazards present inside offices (e.g., sharp edges), inform employees beforehand so they can avoid them by using signs and/or caution tape. 
#2 Provide a safe work environment for your staff
Providing a safe work environment for your staff is an essential element of ensuring that your company has a productive workforce. A safe working environment will encourage employees to report any issues they have within the workplace, which in turn will increase productivity as employees feel supported and empowered.
One way you can make sure that everyone feels comfortable at work is by encouraging open communication between managers and workers – this could be achieved through regular one-on-one meetings where managers listen carefully to what their direct reports are saying about their jobs or concerns in general terms (this may include certain aspects such as pay rates, hours worked per week etc).
Another thing worth considering when it comes to making sure that everyone feels like they're part of something bigger than themselves would be offering employees opportunities to work on projects outside of their own department. This will encourage them to develop new skills and gain valuable experience that they may not otherwise be able to receive within the confines of their normal duties (while also providing positive feedback through praise or reward systems).
#3 Implement a safe work policy
This could mean wearing appropriate clothing when going about their daily tasks – even something simple as wearing shoes instead of sandals could save someone else's life!
Make sure all staff members understand how important it is for them to protect not only themselves but also those around them at work too by implementing a safe work policy. 
If an employee has been injured on-site due to negligence from another person's actions, this could lead to legal action against the company, which would be costly! Implementing safety policies can help avoid any potential accidents or injuries and keep your workforce happy, healthy and productive.
In addition, be sure to have an emergency plan in place that everyone knows about and can follow in the event of a fire, tornado, or another natural disaster. This will help keep your employees calm and safe during difficult times.
#4 Have an emergency plan in place
This will help keep your employees calm and safe during difficult times. When creating a safety policy for your company, be sure to consult with experts who can help you put together a comprehensive program that meets all of the legal requirements in your area. This way, you'll know that your staff is safe and sound – and so will they!
A safety plan should include procedures for responding to fires, tornadoes, hurricanes and other weather emergencies. It should also detail what employees need to do if there's an earthquake or other natural disaster in the area where they work so that everyone stays safe during these times too!
#5 Make cybersecurity a priority
Cybersecurity is an ongoing concern for many companies, and it's important to make sure that you're not leaving any room for vulnerabilities in your cybersecurity policy. A good safety program will include procedures on how employees should respond if they see suspicious activity such as phishing emails or fraudulent charges being made against credit cards used by their company. 
It will also stipulate what steps need to take place immediately after discovering this type of incident has occurred (e.g., reporting it immediately so law enforcement can investigate further). Other actions required during these situations could entail locking down access points until everything gets resolved safely without compromising security systems at work!
In addition, implementing more secure passwords within the workplace can help prevent hackers from gaining entry into sensitive files stored electronically with ease – which means your employees will feel safer knowing cybercriminals aren't stealing their personal information.
Security is vital in any business, but it's especially crucial if your company deals with sensitive customer data like credit card numbers or social security numbers that could potentially be used for identity theft! The first step towards securing these resources should involve making sure everyone has strong passwords on their work computers. 
This also helps protect against hackers who want access to these types of files because they know how easy it would be to steal them from someone else's machine without anyone noticing until after the damage has already been done (e.g., when an employee realizes later). That way, all workers can rest assured that their private information stays private no matter what happens at home!
In conclusion, implementing these five security measures can help protect your company from cyberattacks and keep employees safe at work. So if you want to make sure everyone stays happy with their job while helping your assets, too, then consider taking action soon before something happens that can't be fixed.