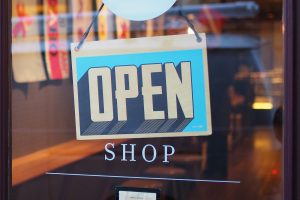 Summer is the perfect time of year to refresh your business' exterior. The sunny weather will draw more people out shopping and will help to brighten up your store as well. Whether you run a small cafe or bar, vintage shop, or independent boutique, upgrading your storefront will help increase your curb appeal and attract more customers. You can even add a couple of modern upgrades to help bring your business into the 21st century. Here are a few ideas to get you started.
Refresh your exterior
If your exterior is in need of a little TLC should could upgrade the windows, door, side panelling or even carry out roof maintenance. Find out which upgrades you are allowed to make according to building regulations. You can then enlist the help of contractors to refresh your exterior such as a metal composite panel manufacturer, window glass suppliers, and more. Revamping your entrance can make a big difference as it's one of the first things customers will see, so at the very least give it a lick of paint and thoroughly clean the windows.
Smart security system
Why not bring your business into the 21st century with a state-of-the-art security system? You can install smart cameras at the front that use AI technology to recognize unusual behavior. All surveillance videos will be safely stored on the cloud and you can access these in real-time. You can have security cameras integrated with an entire system including smart lighting and smart locking.
Front landscaping ideas
Add a touch of greenery to your storefront with some creative landscaping ideas. Think of your own designs that will match the personality of your brand and image and lifestyle of your target audience. For instance, if you run a quaint cafe, these summer window box ideas could work perfectly. Even just a couple of plants or flowers at the entrance can create a welcoming atmosphere.
Consider new signage
If your signage is looking a little worn or dated it might be time for an upgrade. It's essential to keep in line with brand consistency, however. Plan your signage design carefully and keep your target customers in mind. You also need to ensure it's easy to read, stands out from afar, and gives an indication of the products or services you offer. Here are a few more tips on how to choose signage for your business.
New window displays
Once you've cleaned and refreshed your windows it's time to put them to good use. Make new window displays showcasing your latest products and promotions. Be consistent with your offers. For instance, if you've been running an ad or social media campaign online, customers will expect the same offers in store. Always ensure your storefront matches the branding, promotions, and any other relevant information on your website. You could also consider adding notice boards in front of your store in nearby locations to draw more attention to your latest offers. This will help to increase your foot traffic this summer.