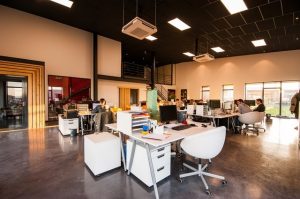 Sometimes, a company can get by renting a workplace. However, it's true that there are limitations to this practice. You may not have the option of really putting your stamp on the place, and in any case, you're sinking money into something that isn't yours and never will be. As such, there's a lot of value in building your own workplace for your business. However, it's unlikely that you'll be able to do this in a downtown area since the costs will be so high. Instead, it's better to look out of town, in a quiet spot.
In this blog, we're going to look at a few considerations to keep in mind if you're taking this option. 
Accessibility
There are downsides to working downtown, but at least you can say that you can more or less always get there. The accessibility to downtown is watertight; all roads and public transport options lead there! This won't be the case when you're building in a slightly more remote place. Buses and metro spots are unlikely to stop by. As such, it's a good idea to think about how you and your team — not to mention your visitors — will reach the new office. Might it make recruiting more difficult? The answers don't necessarily need to influence your decision, but it's better to be aware of them ahead of time. 
Local Life
When you look to more remote areas for your workplace, you'll have a lot of freedom when it comes to the size and shape of your building because there are unlikely to be any other buildings there. You'll have the whole place to yourself! Well, kind of. Before you get too deep into the planning process, it's important to check whether your project will impact local wildlife. It'll be best to hire experts such as a local water attorney to ensure that you're on the right side of the law. Most problems can be overcome, but they might take a little bit of time and effort.
Worksite Infrastructure
One of the advantages of renting a space in a city is that you'll know that it'll have everything you need to get up and running. If you're building on an entirely new site, then this may not be the case. There will be no guarantees that you'll have phone lines or an internet connection. You might need to install the lines yourself. There's a solution for everything, but it will mean that you need to work a little harder than if you were staying downtown. 
Your Branding 
Finally, it's important to think about how your new building is going to reflect your branding. If you're designing and building your own space, then you'll have a terrific opportunity to put your company's stamp on things. So have a think about how your workplace will reflect your business. Is it in line with what you're trying to project? If you say that you're committed to improving your environmental record, then it'll be important to have an eco-friendly building, for instance.