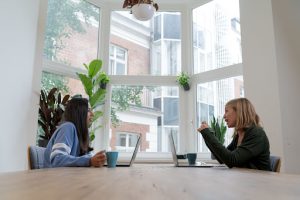 There are many business opportunities available online. You just need to have the right idea and be willing to put in the work. Here are seven business ideas to try online:
1. Start a Blog
If you're passionate about a certain topic, why not start a blog? You can share your knowledge and expertise with the world and potentially make some money in the process.
There are a few ways to make money from blogging, such as selling advertising space, promoting affiliate products, or selling your own products or services.
To get started, all you need is a domain name and hosting, and then you can start sharing your content with the world.
2. Sell Products or Services Online
If you have a product or service that you'd like to sell, there's no reason why you can't do it online. There are many platforms that allow you to set up an online store, such as Shopify or WooCommerce.
You'll need to create and populate your store with products or services and then market it to potential customers. Once you start making sales, you'll need to fulfill the orders and ship the products out.
3. Create a Social Media Platform
If you're good at using social media, why not create your own platform? There are many social media platforms that have been created by individuals, such as Pinterest and Snapchat.
If you can build a following on your platform, you can make money through advertising or promoting affiliate products. You can also sell access to your platform to companies who want to reach your audience.
4. Be an Affiliate Marketing Partner
If you have a website or blog, you can sign up to be an affiliate marketing partner for companies. This means that you promote their products or services on your site and earn a commission for every sale that you generate.
To get started, you'll need to find companies that offer affiliate programs and then sign up for their program. Once you're approved, you'll receive a unique affiliate link that you can share on your site.
5. Offer Consulting Services Online
If you have expertise in a certain area, you can offer to consult services online. This could be anything from business advice to relationship counseling.
To get started, you'll need to create a website or profile on a freelancing platform. From there, you can start marketing your services to potential clients.
6. Teach Online Courses or Workshops
If you have knowledge that you'd like to share, you can create and teach online courses or workshops. This could be anything from cooking classes to web development tutorials.
To get started, you'll need to create a course outline and materials. You can then host your course on a platform like Udemy or Skillshare.
7. Create an online Game
If you're a game developer, you can create games that people can play online. This could be anything from simple flash games to more complex multiplayer games.
To get started, you'll need to come up with a game idea, draw up a game development business plan, and then start developing it. Once it's completed, you can launch it on a gaming platform like Steam or itch.io.
In Conclusion
These are just a few ideas of businesses that you can start online. If you have the right idea and are willing to put in the work, you can be successful with any of these businesses. Just remember to always research the market and ensure that there's a demand for your product or service before getting started.