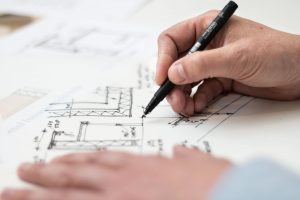 Building any property is going to come with its costs. When the building's use is as specialized as a workspace needs to be, then those costs need to be controlled. Hever, we're going to look at how you can make an engaging and effective office space while also keeping the costs from growing too wild.
Ensure your finance is in order
Growing your business takes a lot of financial investment. To that end, make sure that you're not taking more risks than you are able to. While you should budget as best as possible to anticipate the costs of the project, applying for finance well in advance and making sure that you have the money to go ahead should be a priority to tackle as soon as you can.
Choose the right designers
Make sure that you're able to meet all of your priorities by getting a good idea of what your needs and wants are before you start building. To that end, you can work with office building designers to find plans that tick as many of your boxes as possible while keeping the costs from rocketing up too much. Buying pre-made plans is typically much cheaper than having plans made from the get-go, as well.
Sort out of the red tape
When it comes to building projects, time is money. As such, anything that can hold up the project or delay your progress is a real threat to your cost management efforts. Some of the biggest delays tend to come in the form of permit problems. For that reason, make sure that you get all the necessary paperwork for the building you're planning. You may need the designs ready to get the ball rolling on getting the permits you need, so have them read to streamline your path ahead as best as possible.
Build a better contracting team
It should go without saying that a better construction team is going to result in a more efficient and thus cost-effective project. However, you can make sure that your team meets your exact needs. Rather than letting a head contractor hire their own team, you can choose your own specialists such as a concrete contractor when you know what your needs are. This can help you better control the costs of the entire team.
Manage those equipment costs
Some of the biggest costs in construction tend to come from the types of equipment that need to be sourced. You don't need to necessarily hire a team that comes with the equipment that you need, however. Instead, you can just make sure they're licensed to use the vehicles or machinery necessary and work with a construction vehicle hire service to get the equipment you need at a lower rate.
The best way to make sure that you can handle the costs of any office building project is to make sure that you're doing your research ahead of time as best as possible. Keep the above tips in mind as you plan to build your own office space