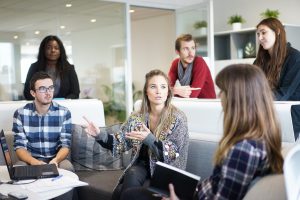 When you first start your business, your main focus is to establish your brand and grow. This doesn't just happen overnight, it's an ongoing process that requires patience, dedication, and hard work. There is no secret way to surpass other businesses or gain immediate success. 
There are, however, some proven ways to help you reach your growth goals and gain success. Let's have a look at some of the ways you can help your small business to grow below: 
Hiring The Right People 
Before you can start thinking about your businesses growth, you need to make sure you have a solid team of people to help you achieve your goals. Having hardworking employees who are dedicated to your businesses success will mean you are more prepared for growth. Delegating tasks to your team will also free up your time and energy to allow you to perform to your best and gain more opportunities for growth. 
Look At Your Established Revenue
Rather than focusing too much on gaining new customers, you should direct your attention towards your loyal customers. A great way to do this is to implement a referral or customer loyalty program, You should also have at things like dtc branding for ecommerce and previous purchasing behaviors that encourage repeat business. The goal is to secure a steady market as it is important if you are trying to get funding. 
Minimize Your Risks
Risk is something that is always going to be there when you are growing and starting a business. You can't possibly control everything, however, there are ways that you can minimize external and internal threats to the growth of your company. One of the most effective ways to accomplish this is by a business insurance provider. As your business grows, you may need to alter your policies as you create new products or services, have a large distribution footprint, increase your operations, or add more space or equipment. It can be easy to forget to do this if you are rapidly growing so make sure you put some time aside in your calendar to check if your cover is protecting you throughout your growth. 
Be Adaptable 
One thing that successful startups have in common is the ability to change directions quickly, responding to market changes. You need to have an agile approach to development in both your company and products/services. Doing this will enable you to test different approaches and figure out what works best for your business. Being adaptable means you can fail but quickly pick yourself back up again. 
Focus On Customer Experience 
The way your customers view your business can make or break it. You need to ensure you are always delivering quality customer experiences, products, and services. They will soon be singing your praises on social media, however, mess it up, and they will tell the whole world very fast. Achieving growth depends on you making your customers happy and keeping them happy with their experience. Compared to large companies, small businesses have more control over individual customer experiences. You can quickly build a long-lasting relationship. Giving them what they want is crucial, so make the effort to learn what this is. Engagement through social media could be a great way to get to know your customers more. You need to remember that you are there to provide a service for your customers, which means giving them what they need and want. They are coming to you for a reason so, use their interest as a way to shine and secure loyalty. 
Make An Investment In Yourself 
At the start of your business journey, you will most likely be working with a very lean profit margin, perhaps no profit at all. Therefore, any money that you do see should go directly to helping you to grow. The ability to invest in yourself can help to accelerate growth, especially in the early years. If you can direct as much revenue as possible back into the company you'll grow faster and more successfully. 
It can be very tempting to pocket all your profits but, it's much better to invest in your business's growth so you can reap bigger benefits later. Identify which areas of your business need more attention. For example, do you need a focus on recruitment, need to expand your marketing online, or do you require additional funding? When you find an important area that needs improvement, give that area your attention with financial support.
Make Sure To Think Ahead 
Although you can't see the future, it pays off to make sure you are always thinking ahead. Agility is important for a new company, however, you can't just sit back when you are running a business. You need to plan your next steps and anticipate all possible scenarios for you to stay secure and grounded as your business evolves. This may be broad advice, however, it can be as simple as relooking at ongoing contracts such as comparing the business credit card rates and finding out if you could get a better deal. 
Look At Customer Service 
Another proven method of growing your business is to have a strong focus on providing superior customer service. When you go above and beyond to exceed customers' expectations, they are more likely to tell their family, friends, and other followers about your business. Going the extra mile by offering discounts for a bad experience or following up to ensure they had a good experience could help you to establish and maintain a great reputation for customer service. 
Social Media Is Crucial 
This is something that is now a necessity for any business, especially when you are working on growth. Most people check their social media at some point during the day which means you could be missing opportunities to engage with your customers if you don't have profiles on the major social media platforms (Instagram, Facebook, Twitter, etc.). Having a profile that is active enables you to market your business and engage with potential customers.
When you have an up-to-date account that is updated regularly, your customers can find your business more easily, and they are able to share your business with more people. You will be providing a more engaging experience for your audience and make them feel more connected to your brand and cultivating trust.
Host Local Events
Attending events is a great way to build your network, however, hosting your own events within the community can be far more beneficial. Whether it's a fundraiser, sponsoring growth opportunities promotes team, or offering an exclusive deal on a holiday, creating a local event enables your customers to build a more personal relationship with your business. If you host events locally, you will increase your brand awareness and show your local community that you are committed to their wellbeing. When you are committed to them, they will become more loyal to your business. 
Look At Your Competitors
This may not lead to immediate growth, looking at your competitors is one of the most important first steps in starting your business. You need to identify who your competitors are, what they're doing or not doing, what works well for them, and how you can be different. Answering these questions can give you the opportunity to flourish. 
This short guide should help you to start growing as a new business and quickly. Have you started a new business? What have you used to help your growth? Please share some of your tips in the comments section below.