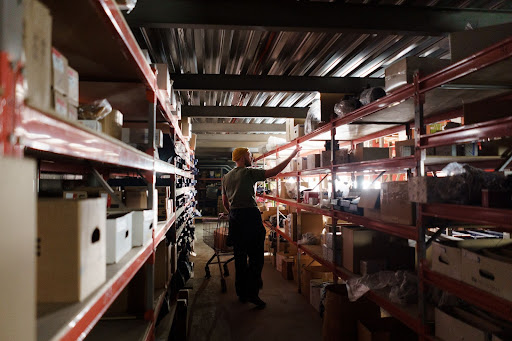 For a warehouse team to operate at peak efficiency, they need to be trained on their specific tasks and roles. With so many different functions in a warehouse, a team training program needs to be explicitly targeted at the tasks a particular team needs. Suppose you're looking to train your team. In that case, it's important to ensure that you're working with a company that has experience with training programs and is knowledgeable about the specific tasks your team will be performing. Here are a few things you should include in your warehouse training program:
Why Is Warehouse Safety Important?
Apart from the natural hazards in a warehouse, the lack of safety in a warehouse can come from a lack of training. More than 40 deaths occur each year in the U.S. due to work-related injuries (NIOSH). These deaths could have been prevented by proper training and the implementation of appropriate safety procedures. 
While the dangers of a warehouse setting may seem minimal, an injury or a fatal accident can quickly cause dangerous situations for both employees and customers. There are several reasons why a warehouse setting is so unsafe. If an employee has the wrong footwear on, they could slip and fall. If they have inappropriate clothing on, they could be exposed to harmful dust levels or cut by sharp or damaged equipment. If a person needs to transfer goods by picking them up with their body, they could be injured by too heavy boxes or by boxes with sharp edges.
Technology Training
One of the most crucial parts of training your team is to ensure they receive the proper training for the jobs they will be performing. With an ever-growing number of tools and equipment in a modern warehouse, your team will be faced with many skills to learn. From basic to advanced, many tasks need to be performed in a warehouse, and it is essential to know what skills are required for each task. Depending on the task, a team may need different skills. The training program should be able to tailor the training to the team's specific needs. It is important to have a shift-specific training program. The team will get familiar with the equipment within a few days of starting their new assignment. The training should be done by a certified instructor in the team's kit.
Proper Equipment and Tools Training
If you're starting a new warehouse team or looking to add to your current team, you should make sure they're trained on the correct equipment and tools. This will ensure that each person is familiar with the tools they'll be using in the warehouse and how to use them safely. It's also essential to train your team on tools and equipment unique to your warehouse. While all warehouses have the same essentials like forklifts and pallets, they might use different equipment depending on their tasks. For example, a packing team might use a conveyor belt to load and unload cartons. Or helping employees get forklift certification can support your training endeavors and improve safety within your warehouse. Understanding equipment used by your team and adapting your work when necessary will help your team be more efficient.
Consult with the manufacturer to help you ensure that the training you give is correct as per the manufacturer's guidelines to avoid damage or injury to users.
On-the-job Training
Training your team on specific activities will help them become efficient on the job. An on-the-job training program is similar to a technical training program, but for the particular tasks your team will be performing. For example, a team stocking shelves might be trained on the specific tasks required to put out products like boxes and packing slips. This can be especially important if your warehouse operates autonomously. Instead of having a manager overseeing each team, each task will be performed by a different person.
Functional Training for Specific Activities
Training all employees in all aspects of safety for every single operation within the warehouse can be overwhelming and lead to confusion and mistakes. Instead, it is advisable to have general health and safety procedures all employees need to follow and then specific training per department or task. This allows employees to become more confident and competent in the areas they will be working in and get to know their job roles better without worrying about other areas they may likely never work in.
Use Certified Trainers In Your Warehouse
The most important part of any warehouse training program is what happens during the training itself. This is why it's essential to use certified trainers. Certified trainers are familiar with the topics covered in a specific training program. This means that they can cover all of the issues related to that type of business. A trainer can include the wrong information in their training program, but it's not likely. Certified trainers are professionals who are experienced with the types of training topics that are covered in a specific program. They know how to protect the most critical issues and help your team become the best they can be on the job. Using certified trainers on the warehouse floor allows employees to learn real skills and application methods for the equipment they will be using every day.
Conclusion
Deciding which training program to use can seem like a daunting process. How do you know which one is right for you with so many options available? The key to finding the right training program is to start with the right questions. The more informed you are, the easier it will be to choose the right program for your organization. There are several things to consider when selecting a warehouse training program, including company size and size of the team, industry trends, and equipment used in the warehouse. With these considerations in mind, you'll be able to find the best training program for your organization. With the help of a knowledgeable training program coordinator, you'll be able to create a training program that meets your team's needs.