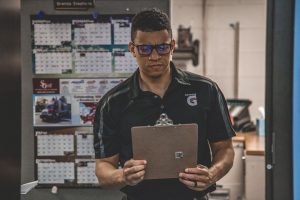 Efficiency is key in every aspect of business. However, one often overlooked part that could benefit the most from a mind towards optimization is the warehouse. Effective warehouses can lower the costs of logistics, help you manage your inventory better, and keep customers happy with quick, convenient shipments. Here are just a few of the ways to give your business the kind of warehouse it deserves.
Find your optimal methods
Warehouse management systems are not just inventory tracking systems. They take into account the layout of the entire work zone and help you and your team find the best ways to navigate and make use of it. They can help you find your optimal storage spaces for the quickest retrieval of the most popular items, for instance. They can also help you map out the routes that let you get more work in little time. Good WMS systems can be used from any device, so it's easy for workers on the go to see the optimal way to carry out their next task, too.
 

Make better use of your storage space

Of course, your warehouse is going to be much more efficient if you have your goods stored in the most effective way. The pallet rack can not only maximize warehouse storage space, but it can also make it easier to organize items for quicker locating and transportation. Which pallet rack system works best for your team depends on the kind of inventory that you're carrying, but it can make the warehouse safer, more flexible and, most importantly, more efficient.
Keep it in the best condition
Your warehouse's workstations are going to play a big role in dictating the level of productivity. If they are cluttered up, disused, or otherwise impeded, then it will slow your team's progress. The 5S rules of warehouse maintenance: Sort; Set in order; Shine; Standardize; and Sustain are important to remember here. It makes sure that your team doesn't have to waste time searching for the tools and equipment they need and ensures that their workstation is clear and accessible when they need it.
Take safety seriously
Warehouses can be a hazardous environment indeed. Not only are accidents a significant legal and financial risk, but they can and will shut your entire operation down and cause a massive uptick in downtime. For that reason, amongst all the others, standardize your approach to safety. Ensure that the right PPE is available at all times. Keep all walkways marked and clear. Train your team members on the importance of proper form when lifting objects. Most importantly, standardize all of these considerations, using signage and frequent retraining to keep safety always in the mind of your team.
 In the warehouse, every minute matters. Rather than simply trying to push your employees to be more productive, you're likely to see more results by systematizing the way that the work and ensuring it's in an environment truly conductive to productivity. Hopefully, the tips above make it easier to manage just that.