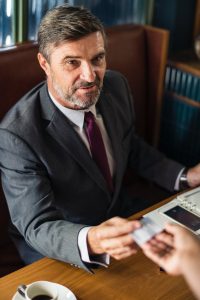 A lot of entrepreneurs focus their attentions solely on building their company's brand, and it is true that building a strong company identity is a crucial part of running a successful company, but it is not the only brand that you should be paying attention to; your own personal brand is every bit as important to your future success as the brand you build for your ventures.
Why Your Personal Brand is Important
In these days of social media, more than ever, individual people matter. If you run a business, your name will be out there and anyone who is interested in potentially doing business with you will have the opportunity to look you up. If they like what they find, you'll stand a far better chance of getting their custom, but if your personal image is off-putting, you can forget about building a new customer/contact. That's why so many entrepreneurs hire image consultants, have experts clean up their social media presence, and even seek to have their past misdemeanors expunged via pardons and other legal methods. Would they really go to the effort if it didn't really matter.
Make Your Business More Real
If you enable your customers and clients to get to know you as a person, it will make your company seem more "real". Gone are the days when faceless corporations ruled; increasing numbers of people are looking for more relatable, down-to-earth businesses to spend money on and if they can relate to you as one human to another, they will be more compelled to buy. That is why you shouldn't be afraid to put yourself out there on your company website,, via social media and in person at events, and why when doing so you shouldn't just present the business side of yourself, but show your audience a more personal side of you whether that's blogging about a passion, sharing a video of you on vacation or simply commenting on your Twitter followers' lives.
Increase Your Audience
When you put yourself out there in a personal capacity, you will draw more attention to yourself and you can use that attention to cast a light on your business and bring more people to it. Many individuals don't like a hard sell, but they're happy to listen to someone interesting, and well, if you discreetly make it known that you run a business, well so be it. Of course, the kind of attention you draw matters. If you run around drinking and causing scenes, that will give you the very worst kind of publicity, whereas if you spend your time being witty, intelligent and giving back, it will draw positive energy towards you and your business and you'll probably boost your bottom line too.
How to Build Your Personal Brand
So, building your personal brand is vital, but how do you do it? By being the best possible version of yourself you can be. Post intelligently on social media, be gregarious, have fun and engage with the people around you on and offline, whether it's business or pleasure.

Latest posts by The Saving Gal
(see all)