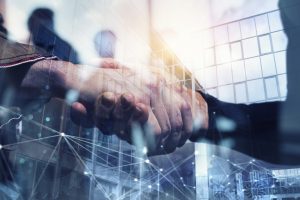 If you're just starting your business from the ground up, you've probably come across these two words — business structure. It can be overwhelming to navigate the world of taxes legal structure, and paperwork that going into business will entail.
It's important that you choose the right business type depending on how you want to operate your business, and the liability you're willing to handle.
Read on to learn the seven most common types of business available, and how to make the best decision on which you should register!
How Do You Choose?
The type of business structure you use affects how you file taxes, how it's operated, and whether or not you're able to hire employees. For instance, if you're not willing to handle the personal liability of a sole proprietorship, you'll need to consider a different structure that will require more paperwork.
There's also tax filing to consider. The simplicity of filing taxes on your own returns is a big draw. However, if you like to keep your personal and business finances separate, you can have your business file taxes as its own entity.
1. Sole Proprietorship
This is the simplest of all business structures. It's easy to create because it requires no registration, and is owned and operated by a single person. In fact, as soon as you begin operating your business, you're considered a sole proprietorship by the government.
Moreover, your earnings are only taxed once compared to other business types. Your expenses and income are on your Form 1040 personal income tax return.
The main caveat of sole proprietorships is that there are no legal or financial boundaries between your business and yourself. If you lose a lawsuit or go into debt, you'll be held responsible.
It also becomes difficult to scale your company up as it grows, as hiring employees isn't easy under this kind of business.
2. Partnership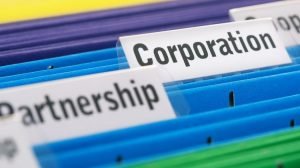 A partnership is the right choice if you're going into business with one other person. This means that legal and financial responsibilities are split evenly, but more specific kinds of partnerships are able to distinguish responsibilities between partners.
The benefit of this is that you'll be able to share each other's workload and learn from each other. You need to be able to trust one another and have a system in place when disputes or disagreements occur.
You'll also be able to take advantage of taxes that "pass through" profits and losses to each partner.
A partnership requires you to establish a business name and register with your state. You'll also need to register with the IRS for taxes.
3. Limited Partnership
While this isn't as common as general partnerships, it's a way for businesses to raise capital with investors who aren't operating the business with you. Typically you'll be called the General Partner in this arrangement, and the investor is the Limited Partner.
4. Corporation
This is most commonly known as a "C Corporation." This is most helpful for established businesses that already have multiple employees and shareholders. Through a corporation, your profits will be taxed at the corporate and personal level because corporations are considered a separate legal entity.
A strategy that many corporations use to lessen the impact of being double taxed is providing a salary to shareholders who work for the company. You aren't required to pay taxes on reasonably compensated earnings.
Why do people create corporations even with this caveat? That's because of these tax advantages. You're also not putting any of your personal assets at risk, and the corporation can keep some of its earnings without paying tax.
Corporations also have strict legal and reporting standards, which means you'll spend a lot of time focusing on the administrative responsibilities of your business.
5. Limited Liability Company (LLC)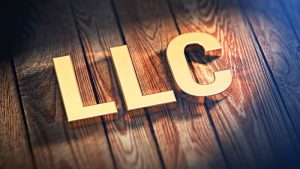 This is a blend between partnerships and corporations. The main benefit of an LLC is that members aren't held financially or legally responsible at a personal level, giving an extra level of protection. And much like a sole proprietorship, you'll be making all the business decisions.
An LLC also requires less paperwork than a corporation, which makes it easy for a group of people to grow their business.
6. Nonprofit Organization
As its name suggests, nonprofit organizations are created for educational or charitable purposes instead of earning a profit. Any money donated should go directly to the operational costs of the nonprofit.
Although there's a lot of paperwork required, you can be granted tax-exempt status.
7. Cooperative
A cooperative's earnings and operations are shared equally between all of its members. There's no requirement to pay out earnings to external stakeholders.
It's one of the least common types of business. It requires the creation of bylaws, a membership application, a board of directors, and charter member meetings.
The Best Types of Business For You
Although there are many different types of business to choose from, they all have distinct advantages and disadvantages depending on what you need. It's easy to choose which one is the best for you when you're aware of how you want your business to be operated and whether you're comfortable with the possibility of personal liability.
Ready to learn more about effective business operations? Keep reading our blog to build longterm wealth!
Latest posts by The Fortunate Investor
(see all)