It's a tough challenge to hire new people. The thing is, once you have hired someone and they have signed a contract, they now have rights you have to obey. It's kind of like giving that person power within your business. So, you want to make sure that you are hiring the best people so that they are on the same wavelength as you are. They must also have the right kinds of skills but also, the right kind of mind so they're adaptable to the future challenges your business will face. Before the interview process can begin, set out your standards. This will include choosing certain character traits specific to the role. You'll also want to know what kind of person they are when working with other people from different professions and backgrounds. Your standards may also include possessing a good reputation in the industry and working with top minds. It's crucial you do all of this before you ask people to come to your offices and meet them in person.
Proof positive relationships
It all depends on what kind of role you're trying to fill. If it's a managerial role, you'll want someone who has experience with people managing and working with lots of people from different industries. This is a high bar from the beginning because a junior in the industry cannot even replicate the skills asked of someone in a managerial role. You're looking for someone more specific. For a junior role, the net is cast wide. You'll get hundreds of replies and you may ask tens of people to come in for the interview. With a management role, you're only going to allow a few people to move onto the next stage. So, make sure you can trust them and they can prove who they really are. To be proof positive of a candidate you can run a Background Checks for Employees. With an identity check, you will know their real full name, any aliases they might have used or are using, their social security number, current and past addresses as well as their date of birth. With these things in hand, you can know who you're really dealing with for the position of an important role.
Working with others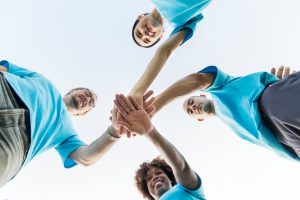 Regardless of what role you're asking a candidate to fill, they must be able to work with others. People skills are something you must see in person. They can be described well on paper such as a candidate stating their past experiences in a covering letter, but really, you must watch how they behave, think and communicate in a team with your own eyes. So, before you call anyone to have an interview, you must make a fictional scenario and allow for open responses. This could be something like a deadline is coming up but someone has called in sick. Someone has to fill in for their role, how would an employee or a manager respond to this? 
Someone in the room will need to roleplay, so the candidate can be put into the right frame of mind and have a real person to talk to. It's equally important that you're noting the responses the candidate makes silently so as to not make them overly self-conscious. Filming them with their consent is a good idea. Someone helping with the interviews can use their mobile to make things easy.
Tasks beforehand
Reading cover letters and assessing resume after the resume is one thing, but setting a task beforehand is going to weed out the weak from the strong even before you contact applicants. So, form a task of some kind that is a real-world scenario to your business. You might be an IT services company, so asking someone to write a plan of action to solve a client's backup data issue, would be an excellent challenge. You might also be a restaurant, so asking a chef what kind of ingredients they would be ordering for a dish of your choice is very insightful. All of this will help you make the right choices in calling people back. When they can already impress you by solving a problem you have made up, you get to know what's going on in their mind. But above all else, you will get an accurate picture of what kind of candidate they really are.
Set your own standards for candidates and you will find that the process of hiring someone new, becomes a lot simpler and more efficient. Start off with a background check to prove they really are who they say they are.