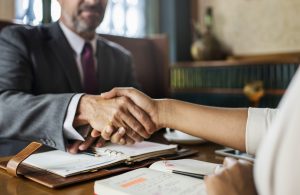 Running a business on your own is tough and sometimes the financial burden is too high for you to bear on your own, which is why it's often a good idea to consider getting a business partner. There are so many great benefits of having a business partner to work with; you can split the financial investment in the new business between you, which means access to more capital and decreased risk for both of you. It also means that you're not taking on the entire workload on your own, especially in those early months when you don't have the money to hire lots of employees. There are also going to be certain areas of the business that you struggle with so having a business partner that brings a different set of skills to the table can be a huge asset.
However, bringing another person into the mix can complicate things and a lot of business partnerships don't last that long. In some cases, they can end badly and you'll find yourself in the midst of a court battle with somebody that you used to call a partner. Done right, business partnerships are a great way to increase your chances of success, but done wrong, they're a sure fire way to sink the business entirely. If you want to make sure that you get it right, here are a few things that you need to do.
Consider Your Strengths And Weaknesses
When you're choosing a business partner, you need somebody that compliments your skill set. If you're both great with sales and marketing but neither of you are very good at handling business finances, you're asking for trouble. But if you hire somebody that is good with numbers and they handle that side of the business while you deal with developing and marketing the products, you'll make a good team.
Before you start looking at potential business partners, make a list of your strengths and weaknesses and be honest with yourself, pretending that you're great at everything isn't going to get you anywhere. Once you've identified your weak areas, you'll have a better idea of the qualities that you're looking for in a business partner.
Define Your Roles Clearly
When you first start working with a new business partner, it's so important to define your roles clearly and decide who is going to do what in the company. If you don't do this, it can lead to a lot of problems further down the line. A lot of partnerships fail because one person feels like they're doing all of the work while the other puts their feet up and waits for the profits to start rolling in. This situation usually arises because the roles aren't clearly defined from the beginning. Your strengths and weaknesses should dictate which roles you fill so you can decide that one of you will handle the marketing and sales while the other deals with accounting and HR, and you handle new product development and big picture decisions about the business together. That way, if there are some serious problems with the accounting department and they're falling behind, you know that one of you isn't doing their job properly. However, if the roles aren't clearly divided up, it's easy for you to both start blaming the other for problems in the business.
Have A Clear Contract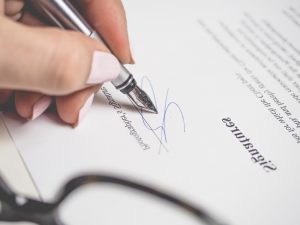 Contracts are so important because they ensure that you both have the proper legal protection when you enter into the partnership. That means, if anything goes wrong, you'll both get what you are owed from the business and you don't have any disputes about who owns what percentage of the business etc. However, some people don't have proper contracts when they start a new business venture together and it can cause some big problems. Usually, it's when friends or family members go into business and think that they don't need to go through those formalities because they're never going to have a dispute about the business, but it does happen and it can get very ugly if the right contracts aren't in place. You should use a contract management system like the one from Legal Files Software, Inc. to keep on top of contracts and alter them when necessary. When the business goes through changes, the contract may be invalidated so it's important that you update it. Even if you're going into business with an old friend or a family member, it's still important that you have contracts in place.
Discuss Long Term Goals
Most business partnerships start out great because you're both on the same page about things and you're excited about your new business opportunity. It's after a year or so that the cracks usually start to show and that's because people don't discuss their long term goals enough. You might be in agreement about the product and how to market it in the early stages, but have you discussed what happens when you start becoming successful? If one of you wants to start expanding the product range and trying to make more sales to your existing customers, while the other thinks that it's best to focus on marketing your existing products to market segments that you haven't yet had success with, you're going to start having some big disagreements. A lot of people don't agree on the overall goals of the business either. Some might be happy with a relatively small business that earns you a decent living but still gives you enough free time to spend with the family. That's great, but what if your partner has big plans for global expansion?
It's important that you know where you stand before you decide whether you want to start a business together or not. One of you can always buy the other out further down the line if you disagree, but ideally, you want to partner with somebody that has the same business aspirations as you.
If you keep these things in mind when you're looking for a business partnership, you can find one that lasts for years to come.