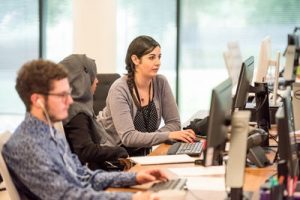 When you plough your hard earned cash into your business you want to know it is being used in a worthwhile manner. Nobody wants to see their money and time being wasted, especially on something they are so passionate about. As a business owner you will always worry about the productivity of your business; you want to get the most out of every working day. If you want to increase your chances of business success, you may need to reassess some of your strategies when it comes to productivity. There is no right or wrong way to go about this, but there are a few useful methods you can adopt right now.
Treat Your Employees Well
It goes without saying that happy employees are productive employees. If you aren't giving them the recognition they deserve, they will soon start to check out mentally and their work with suffer. Surprise HR is a simple, yet powerful tool that lets you easily deploy surprise and delight to anyone, anywhere in the world within your organization. You can reward and recognize hard work whenever you want with this simple tool. By implementing this sort of reward strategy you can be sure that your employees feel valued and motivated at all times.
Thorough Training is Fundamental
When you fail to train your members of staff adequately, you will risk having gaps in people's knowledge. When you recruit somebody, you want to make sure they are given every tool and skill they need to carry out their role effectively. When other people on the team have to pick up their slack, there can often be extreme frustration and upset in the workplace. By trying and testing new training methods, you will avoid this type of problem as all of your team will be on the same page from the very beginning.
Retain Your Staff
Once you have trained all of your staff to the highest standard, you will want to keep them on board for as long as possible. When you have spent time and money on effective training methods, you want to be able to retain your wonderful hard workers. You can retain staff by offering perks, career progression and other incentives that make them feel motivated in their job role.
When your workforce feels included, well treated and rewarded they are more likely to get the job done well. You will notice productivity levels skyrocketing if you implement some of these ideas into your workplace. Speak to your employees and find out exactly where their annoyances lie; you might be able to find a quick and easy fix for them. The moment your employees start to feel appreciated they will give back in ways you never thought possible. Your business profits and customer satisfaction rates will skyrocket and you will be content with the way your operational workflow is going. Just a few small changes can make a huge difference to how your business operates on a day to day basis.